Thomas Holmes, PhD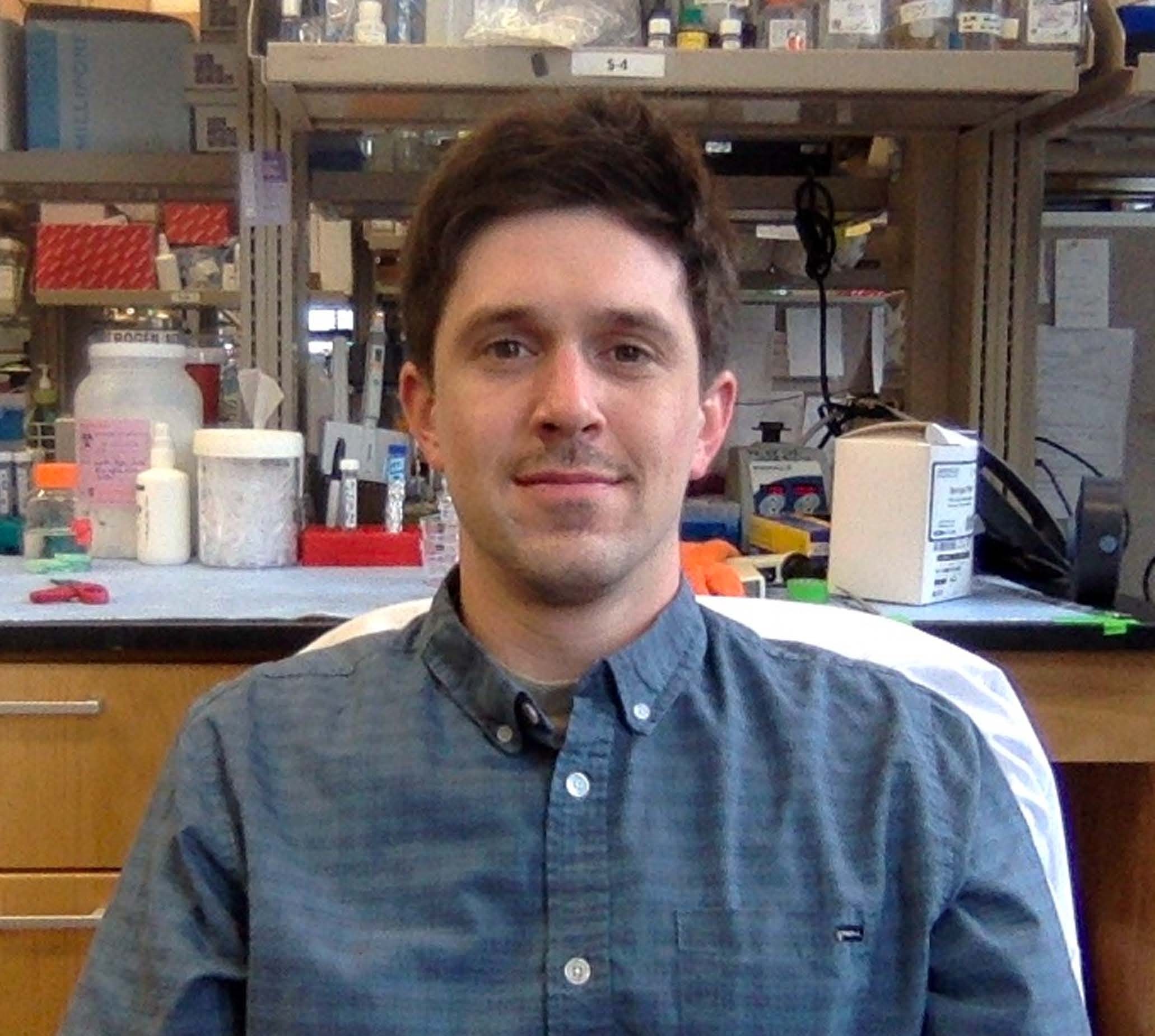 Dr. Holmes began his research career as a laboratory technician in Dr. Juliane Soukup's laboratory at Creighton University performing research on catalytic, self-cleaving RNA molecules termed riboswitches. He went on to receive his PhD from Creighton University in the laboratory of Dr. Laura Hansen where he was first introduced to cutaneous research. In the Hansen lab he investigated the mechanisms leading to inhibition of apoptosis in cutaneous SCC. His work displayed the aberrant overexpression and cytoplasmic relocalization of CDC25A and 14-3-3 proteins, their association with one another and ability to promote cancer cell survival.
In July of 2019, Dr. Holmes began his postdoctoral training in the laboratory of Dr. Amy Paller in the Department of Dermatology at Northwestern University performing research in the field of type 2 diabetic (T2D) wound healing. Currently, his work involves the use of 3D human skin equivalents (HSE) containing human-derived diabetic foot ulcer fibroblasts (DFUF) to investigate wound healing, keratinocyte-fibroblast signaling and keratinocyte proliferation. Specifically, Thomas is utilizing small molecule inhibitors and spherical nucleic acids to target the production of ganglioside GM3 to improve epidermal closure and determine its impact on IGF1R/EGFR signaling in keratinocytes.
Taking this work further, Thomas's future research goals and interests include: integrating sensory nerves and endothelial cells into HSEs to determine the impact of perturbed DFUF signaling on nerve regeneration and angiogenesis during wounding; studying the relationship between sensory nerve afferents and keratinocytes in normal patients versus T2D; and investigating metabolic changes in T2D that lead to altered glucose uptake in keratinocytes and its impact on wound closure.
Publications
Xiang Fei, Thomas Holmes, Julianna Diddle, Lauren Hintz, Dan Delaney, Alex Stock, Danielle Renner, Molly McDevitt, David B. Berkowitz and Juliane K. Soukup. Phosphatase-inert glucosamine 6-phosphate mimics serve as actuators of the glms riboswitch. ACS Chem Biol 2014. 9 (12): 2875-82.
Jenan Al Matouq*, Thomas R. Holmes*, Brianna Hammiller, Nicholas Tran, Matti Holmes, Caleb S. Freeman and Laura A. Hansen. Accumulation of CDC25A in cutaneous squamous cell carcinoma leads to a dependency on CDC25A for cancer cell survival and tumor growth. Cancer Letters 2017. 410: 41-49.
Esha Madan, Taylor M. Parker, Matthias R. Bauer, Alisha Dhiman, Christopher J. Pelham, Masaki Nagane, M. Lakshmi Kuppusamy, Matti Holmes, Thomas R. Holmes, Kranti Shaik, Kevin Shee, Salome Kiparoidze, Sean D. Smith, Yu-Soon A. Park, Jennifer J. Gomm, Louise J. Jones, Ana R. Tomás, Ana C. Cunha, Karuppaiyah Selvendiran, Laura A. Hansen, Alan R. Fersht, Kálmán Hideg, Rajan Gogna, and Periannan Kuppusamy. The curcumin analog HO-3867 selectively kills cancer cells by converting mutant p53 protein to transcriptionally active wildtype p53. Journal of Biological Chemistry 2018. 292 (12): 4262-76.
Thomas R. Holmes, Shravya Dindu and Laura A. Hansen. Aberrant localization of signaling proteins in skin cancer: Implications for treatment. Molecular Carcinogenesis 2019. 58 (9): 1631-39.
Jenan Al Matouq, Thomas R. Holmes and Laura A. Hansen. CDC25B and CDC25C overexpression in nonmelanoma skin cancer suppresses cell death. Molecular Carcinogenesis 2019. 58 (9): 1691-70.
Abstracts
TR Holmes, K Bonkowski, K Kwan, MS Bonkowski & AS Paller. Targeting GM3 synthesis improves wound healing in human diabetic skin equivalents. Selected Oral Presentation; Society of Investigative Dermatology Annual Meeting, May 2020, Virtual.TR Holmes, JA Al Matouq, B Hammiller, CS Freeman & LA Hansen. Suppression of apoptosis in cutaneous SCC depends on 14-3-3e. Poster Presentation; American Association of Cancer Research Annual Meeting, April 2018, Chicago, IL.