Abbey Perl, PhD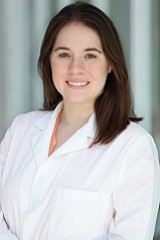 Dr. Perl received her Ph.D. at Case Western Reserve University in the lab of Dr. Goutham Narla. Her graduate work revealed a new function of the tumor suppressor Protein Phosphatase 2A (PP2A) in the surveillance of DNA replication and the activation of the intra-S phase checkpoint in normal cell function. During her graduate career, Dr. Perl was awarded multiple awards, including an NRSA F31 Predoctoral Fellowship, and a Teaching Certificate through the ExTEND program at Case Western.
Dr. Perl joined the Green lab for her postdoctoral work to study how phosphatase activity across the differentiated layers of the skin regulates desmosome function and proper skin barrier formation using biologically relevant model systems including primary keratinocyte and 3D organotypic cultures. Her goal is to utilize the insights gained from studying normal skin models to understand how phosphatase dysregulation may contribute to disease states, specifically focused on diseases associated with impaired desmosome function that result in skin fragility and cardio-cutaneous co-morbidities that result in arrhythmogenic cardiomyopathies.
Publications
Leonard D*, Huang W*, Izadmehr S, O'Connor C, Wiredja D, Wang Z, Zaware N, Chen Y, Schlatzer D, Kiselar J, Vasireddi N, Schüchner S, Perl AL, Galsky M, Xu W, Brautigan D, Ogris E, Taylor DJ+, Narla G+. Small molecule selectively enhances phosphatase function through biased heterotrimer stabilization. Cell. 2020 Apr 30; 181(3):688-701.
Perl, AL., O'Connor, C. M., Fa, P., Mayca Pozo, F., Zhang, J., Zhang, Y., and Narla, G. (2019) Protein phosphatase 2A controls ongoing DNA replication by binding to and regulating cell division cycle 45 (CDC45). J. Biol. Chem. 10.1074/jbc.RA119.010432
Umesalma S, Kaemmer CA, Kohlmeyer JL, Letney B, Schab AM, Reilly JA, Sheehy RM, Hagen J, Tiwari N, Zhan F, Leidinger MR, O'Dorisio TM, Dillon J, Merrill RA, Meyerholz DK, Perl AL, Brown BJ, Braun TA, Scott AT, Ginader T, Taghiyev AF, Zamba GK, Howe JR, Strack S, Bellizzi AM, Narla G, Darbro BW, Quelle FW, Quelle DE. RABL6A inhibits tumor-suppressive PP2A/AKT signaling to drive pancreatic neuroendocrine tumor growth. J Clin Invest. 2019, Mar 4; 130.
McClinch K, Avelar RA, Callejas D, Izadmehr S, Wiredja D, Perl A, Sangodkar J, Kastrinsky DB, Schlatzer D, Cooper M, Kiselar J, Stachnik A, Yao S, Hoon D, McQuaid D, Zaware N, Gong Y, Brautigan DL, Plymate SR, Sprenger CCT, Oh WK, Levine AC, Kirschenbaum A, Sfakianos JP, Sears R, DiFeo A, Ioannou Y, Ohlmeyer M, Narla G, Galsky MD. Small-Molecule Activators of Protein Phosphatase 2A for the Treatment of Castration-Resistant Prostate Cancer. Cancer Res. 2018 Apr 15; 78(8):2065-2080.
OConnor C*, Perl AL*, Leonard D*, Sangdokar J. Therapeutic Targeting of PP2A. Int J Biochem Cell Bio. 96:182-193. Review.
Sangodkar J, Perl A*, Tohme R*, Kiselar J, Kastrinsky DB, Zaware N, Izadmehr S, Mazhar S, Wiredja DD, O'Connor CM, Hoon D, Dhawan NS, Schlatzer D, Yao S, Leonard D, Borczuk AC, Gokulrangan G, Wang L, Svenson E, Farrington CC, Yuan E, Avelar RA, Stachnik A, Smith B, Gidwani V, Giannini HM, McQuaid D, McClinch K, Wang Z, Levine AC, Sears RC, Chen EY, Duan Q, Datt M, Haider S, Ma'ayan A, DiFeo A, Sharma N, Galsky MD, Brautigan DL, Ioannou YA, Xu W, Chance MR, Ohlmeyer M, Narla G. Activation of tumor suppressor protein PP2A inhibits KRAS-driven tumor growth. J Clin Invest. 2017 Jun. 1.
Pope WH, Bowman CA, Russell DA, Jacobs-Sera D, Asai DJ, Cresawn SG, Jacobs WR, Hendrix RW, Lawrence JG, Hatfull GF; Science Education Alliance Phage Hunters Advancing Genomics and Evolutionary Science; Phage Hunters Integrating Research and Education; Mycobacterial Genetics Course. Whole genome comparison of a large collection of mycobacteriophages reveals a continuum of phage genetic diversity. eLife. 2015 Apr 28;4.
Miller SY, Colquhoun JM, Perl AL, Chamakura KR, Kuty Everett GF. Complete Genome of Bacillus subtilis Myophage Grass. Genome Announc. 2013 Dec 5; 1(6).
Ritz MP, Perl AL, Colquhoun JM, Chamakura KR, Kuty Everett GF. Complete Genome of Bacillus subtilis Myophage Camp Hawk. Genome Announc. 2013 Dec 19; 1(6).
*Indicates equal author contributions