Maximizing our research impact and minimizing intrusions on critical healthcare pathways.
Connect with the COVID-19 Task Force
If you are starting or contemplating a project that has not been submitted to one of these units, please send a one-paragraph description by email to Rex L. Chisholm, PhD, and Abby Cosentino-Boehm, DrPH. Questions about this initiative may also be directed to Chisholm at 312-503-3209.
Task Force Members
Ronald T Ackermann
Professor of Medicine (General Internal Medicine and Geriatrics), Medical Social Sciences and Medicine (Endocrinology)
Daniel J Brat
Professor of Pathology (Experimental Pathology) and Pathology (Neuropathology)
GR Scott Budinger
Professor of Medicine (Pulmonary and Critical Care) and Cell and Developmental Biology
Megan Carney
Director, Office of Research, NMHC
Rex L Chisholm
Professor of Cell and Developmental Biology and Surgery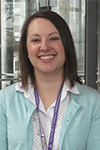 Abby Cosentino-Boehm
Director of Clinical Research Operations
Richard T D'Aquila
Professor of Medicine (Infectious Diseases)
Leo I Gordon
Professor of Medicine (Hematology and Oncology)
Michael G Ison
Professor of Medicine (Infectious Diseases) and Surgery (Organ Transplantation)
Donald M Lloyd-Jones
Professor of Preventive Medicine (Epidemiology), Medicine (Cardiology) and Pediatrics
Jyoti D Patel
Professor of Medicine (Hematology and Oncology)
Leonidas C Platanias
Professor of Medicine (Hematology and Oncology) and Biochemistry and Molecular Genetics
Robert M Rosa
Professor of Medicine (Nephrology and Hypertension)
Benjamin D Singer
Assistant Professor of Medicine (Pulmonary and Critical Care) and Biochemistry and Molecular Genetics
Babafemi O Taiwo
Professor of Medicine (Infectious Diseases)
Richard G Wunderink
Professor of Medicine (Pulmonary and Critical Care)