Admissions
We are glad you are interested in applying to the Health Services and Outcomes Research (HSOR) program. 
Most applicants to the master of science program have completed a doctorate degree in a health-related field (e.g., MD/DO, PhD, DNP, PharmD) or have a master's degree plus two to three years of research or relevant healthcare-related experience. Certificate applicants should have at least two to three years of research experience (graduate or professional). 
Applicants who wish to enter the program to take courses for professional development are considered Non-Degree Special Students. These applicants should follow the instructions for the certificate program.
Upcoming Application Deadlines
Our application deadline for the 2020/2021 academic year has passed. The application portal for the 2021/2022 academic year will be posted in the Fall.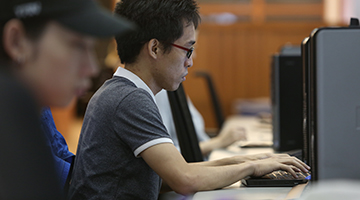 Application Requirements
 Northwestern University Graduate School Online Application
Applications are submitted via The Graduate School's online application. An application is considered complete only when all required supporting documents have been received. If you have questions about the requirements or the completeness of your application, please contact the program. GRE scores are not required. 
For the required Statement of Purpose, applicants should state their objectives for pursuing graduate study and describe their professional goals and qualifications.
On the application's Program Information page, indicate whether you are applying for the master's program or a certificate option: 
To apply for master's degree admission: Select "Health Services and Outcomes Research: MS" (program code H04MS) and choose summer for the admission term, as master's applicants are admitted only in summer.
To apply for the certificate or non-degree program: Select "Health Services and Outcomes Research: Non-degree" (program code H04ND) and indicate your desired entry quarter. Certificate and non-degree students can be admitted each term, but we recommend starting in summer or fall. When you select the non-degree program, there will be a "specialization" section after program selection. Choose the appropriate area of specialization for your application: Methodology Certificate, Contemporary Issues Certificate or Non-Degree (at-large/non-degree special students).
 Letters of Recommendation
Applicants are required to submit two letters of recommendation. Letters should be submitted electronically via The Graduate School online application. In the recommendation section of the application, applicants enter the details for each letter provider, and the system will send an email prompt to that individual with a link to upload the recommendation letter.
 Transcripts
Upload one set of transcripts from each postsecondary institution attended. Applicants should upload unofficial transcripts to the online application (unofficial transcripts are either electronic copies from the institution or digital scans of official transcripts). Transcripts should document all courses taken, grades received and (if applicable) degrees earned. All admitted students are required to have their previous institutions send official, sealed transcripts to The Graduate School before the end of the first quarter of enrollment. 
 CV
Submit your most recent curriculum vitae via the "Resume" section of The Graduate School online application.
 Writing Sample
Submit electronically via The Graduate School online application's "writing sample" section:
Master's degree: Provide a description of one key issue in health services research and discuss possible solutions (responses should be no more than 750 words).
Certificate program: Submit a recent paper or writing sample that is no longer than 15 pages. If submitting a co-authored paper, the applicant should be first author. 
International Applicants
 Student visa eligibility requires full-time academic enrollment. The one-year master of science schedule can meet this requirement if a student supplements the required curriculum with additional electives. Prospective international applicants are strongly encouraged to contact the program as early as possible to learn about eligibility and program requirements. All international applications must be received by Dec. 15 of the year before the program's summer start date.
Northwestern Hybrid Instruction
 Northwestern University strives to provide access to its online degree programs to all students. While we will do our best to provide access, students must be aware that they may not be able to access course material due to technology or internet limitations. To that end, students are advised that they must meet the following technology requirements:

Students are required to have a laptop that meets or exceeds university requirements, with a working webcam and microphone for synchronous sessions.
Students are required to have access to a reliable, high-speed internet connection of at least 5 Mbps. While students can connect via Wi-Fi, we highly recommend using a wired internet connection, as faster internet connections improve the online experience.
Back to top