CDB Welcomes Yogesh Goyal, PhD
Bio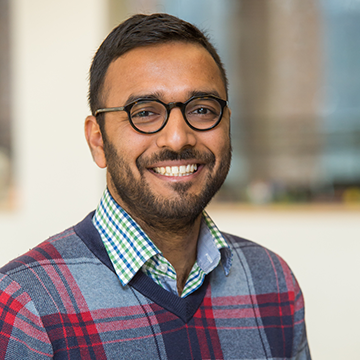 Yogesh grew up in a small rural village in Jammu and Kashmir in India. He received his undergraduate training in Chemical Engineering from the Indian Institute of Technology Gandhinagar, and his Ph.D. in Chemical and Biological Engineering focusing on quantitative developmental biology from Princeton University. Yogesh pursued postdoctoral work in single-cell systems biology in Bioengineering at the University of Pennsylvania. Yogesh's major honors include Burroughs Wellcome Fund CASI Award, Schmidt Science Fellowship, and the Jane Coffin Childs Fellowship.
Outside of research, Yogesh enjoys watching and playing various sports, drawing and engaging with artists on fun art-science projects, (intuitive) cooking, and sampling cheeses from local specialty shops.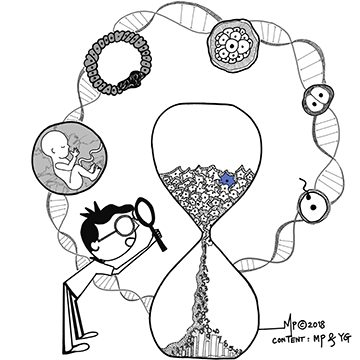 The Goyal Lab opens in February 2022 and will be located on the 11th floor of the Louis A. Simpson and Kimberly K. Querrey Biomedical Research Center (SQBRC) within the Center for Synthetic Biology.
Research Focus
The lab will combine theory and single-cell resolved experiments to track and control fate choices in developing tissues and cancer.
Although recent developments in single-cell profiling techniques have facilitated the characterization of cellular states and fates at an unprecedented resolution, developing quantitative and causal connections from variabilities in cellular states to fate decisions has remained largely elusive, even in well controlled systems. The Goyal lab will develop novel frameworks by leveraging experimental tools (single-cell profiling, lineage barcoding, multiplexed RNA imaging, live imaging, and optogenetics) as well as computational tools (stochastic modeling and statistical analysis of large datasets) to 1. Probe and formalize the non-genetic fluctuations underlying cellular plasticity in single cancer cells; 2. Connect individual cancer cell fate lineages to their functions (e.g. therapy resistance/metastasis) and their ecological organization in 3D; and 3. Establish quantitative and lineage-resolved organoid models of early mammalian development and developmental disorders.
The Goyal lab's interdisciplinary research program welcomes artists, biologists, chemists, clinicians, computer scientists, engineers, mathematicians, and physicists to work together and provide unique insights into biological systems.
For more information on specific projects and lab philosophy, please get in touch with Yogesh via email. Be on the lookout for the launch of the Goyal lab website in the coming months!
Publications
See Yogesh's publications on
Google Scholar
.
Join Our Lab
Yogesh is passionate about mentoring and has advised over a dozen students from essentially all STEM majors. His students—who come from a wide range of socioeconomic, gender, and racial communities—have gone on to co-author publications, win awards, and have successful careers in academia and industry.
The Goyal lab is actively recruiting students, postdocs, and technicians.
 Graduate Students
 Postdocs
 Technicians
 Undergraduate Students