Student Q&A: Radhika Rawat, Medical Scientist Training Program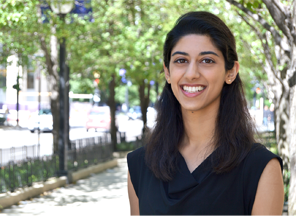 Radhika Rawat, a third-year student in the Medical Scientist Training Program (MSTP), participates in a range of activities at Feinberg — from the wellness committee and curriculum review committee, to initiatives through the Office of Diversity and Inclusion. She was co-chair of the 2017 Anatomy Closing Ceremony and serves as MSTP representative on the Driskill Graduate Program Student Council.
Now in the PhD phase of her training, Rawat is currently conducting research in the laboratory of John Kessler, MD, the Ken and Ruth Davee Professor of Stem Cell Biology. She recently published a review in Current Opinion in Cell Biology, providing a snapshot of the current research in deubiquitinase biology, with a focus on USP7, one enzyme implicated in cancer and disease. Rawat wrote the paper under the guidance of Panagiotis Ntziachristos, PhD, assistant professor of Biochemistry and Molecular Genetics.
What is your research focus?
In the Kessler Laboratory, I study the effects of neurogenesis on affective behavior, specifically in the context of depression and anxiety.
Depression is one of the leading worldwide causes of disability and lost productivity, but we don't understand it well. As our lab recently published in Molecular Psychiatry, the most widely used antidepressant medications seem to converge on a pathway that influences adult hippocampal neurogenesis, or the birth of new brain cells.
While there has been some controversy about the existence and importance of adult neurogenesis, there is substantial evidence for it and its relation to various neurological diseases. For example, a recent paper published in Nature shows that the rate of neurogenesis is related to progression in Alzheimer's disease.
What we hope to learn from our current work is how new neurons contribute to behavior changes, and how these processes are altered by illness and medications. We hope that our work will provide mechanistic underpinnings for these important, but so far poorly-understood, processes.
Why did you choose the Medical Scientist Training Program at Northwestern?
The MD/PhD was a natural combination of my interests and the elements I wanted in a career. As an undergraduate at the University of California, Berkeley, I found that many of my most worthwhile experiences were at the intersection of scientific research, health policy and teaching, and my experiences working for an orthopedic surgeon made it clear to me that medicine was where I wanted to be.
Community and culture were key factors in my program decision. When I was applying, I felt immediately welcomed, challenged and at home with the Northwestern MSTP students and faculty. I also valued the opportunities and different perspectives afforded by a city like Chicago.
What has been the most rewarding experience of medical school so far?
I frequently volunteer to work with high school and undergraduate students in the anatomy lab. There's no better feeling than seeing a student catch the same enthusiasm and wonder that brought me into science. Seeing students light up when we talk about the heart as an intersection of mechanics, electricity and genetics, or how different parts of the brain are responsible for movement, senses and personality, takes me back to the awe I felt learning about them for the first time.
Tell us about your involvement in other activities at Feinberg.
As part of the wellness committee, I help organize events and share resources with students, sometimes serving as a liaison between the student body and the Augusta Webster Office of Medical Education (AWOME).
I think it's notable that the medical school administration has created a culture of investing in student development. The emphasis on our growth not just academically, but as professionals, team members and individuals, is something I value immensely in our medical school's philosophy.
Last year, I co-moderated one of the inaugural groups of Sustained Dialogue, a program organized through the Office of Diversity and Inclusion in which students speak more openly about issues that might stay under the radar in typical medical school conversations. I believe these kinds of programs give us useful tools for having productive discussions with our future teams and patients when we're coming from different places. Disagreements can make teams stronger, and these programs help build the skills to make that happen.
How do you maintain balance with interests outside of medical school?
I was on UC Berkeley's Judo team, and while I didn't expect to continue competing after graduating, sports and exercise have remained a part of my life in medical school.
When I was preparing for my first board exam (Step 1), I kept finding parallels with competition training. Step studying is a long process and comparing it to Judo allowed me to build skills, gain endurance, refine my strategies when there were setbacks, and ultimately, execute. Sports have always been a great place to practice that mindset for me.
Besides exercise, I make time to read, draw, bake and try to take advantage of the city. There's nothing better than soaking up the summer sun with friends by the lake.