Student Q&A: Anil Wadhwani, Medical Science Training Program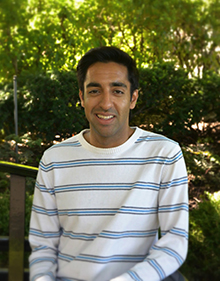 Anil Wadhwani, a fourth year MD/PhD student in the Medical Science Training Program (MSTP), studies human stem cells to explore the mechanisms of genetic risk in Alzheimer's disease in the laboratory of John Kessler, PhD, professor of Neurology and Pharmacology.
Wadhwani received his undergraduate degree in biological sciences from the Integrated Science Program at Northwestern University. He knew early in his career that he wanted to dedicate his time to researching a scientific problem with clinical significance. The MD/PhD program at Northwestern University has allowed him to integrate scientific and clinical training into his research.
Q&A
Where is your hometown?
I was born in Joliet, Illinois.
What are your research interests? 
My overarching interest is in disorders of cognition. The human brain processes and stores complex information by mechanisms we are only beginning to understand, and intellect varies widely from individual to individual. Some possess superior memory or creative capacities, while these aspects may be limited in others, including those with diseases ranging from Autism to Alzheimer's. I'd like to use molecular and systems neuroscience to model human diseases to better understand their pathogenesis and elicit information about how the brain processes and stores information. 
What exciting projects are you working on? 
Currently, in the laboratory of John Kessler, PhD, I am using human stem cells to explore the mechanisms of genetic risk in Alzheimer's disease. Individuals with a specific mutation in Apolipoprotein E are at significantly increased risk of developing the disease, but the specific mechanism by which this protein contributes learning and memory deficits is not well known.
We are partnering with the clinical researchers at the Cognitive Neurology and Alzheimer's Disease Center to obtain skin samples from patients with or without the disease. We will transform these cells into pluripotent stem cells, and grow them into neurons and astrocytes in order to generate a human cellular model of the disease. With this platform in place, we'll be able to make experimental manipulations to probe the mechanisms of pathogenesis or test prospective therapies. 
Why did you choose Northwestern? 
Northwestern's MSTP melds clinical and basic science training in the context of a supportive student and faculty community in a leading urban academic medical center. With the combination of a progressive medical education, strength in neuroscience research, and exposure to broad spectrum of diseases, I was confident that I would develop the skills necessary for a career as a physician-scientist. 
What has been your best experience at Feinberg?
I will never forget one of the earliest days in the anatomy labs, where we performed a laminectomy on the vertebrae in order to reveal the spinal cord. Hidden deep in the body, behind muscle, sinew, and bone, this massive bundle of nerves gave rise to numerous branches, each reproducibly traceable to different parts of the body. I was simply amazed by the intricacy of the structure, and in awe of the series of complex events that enabled the structure to form and function. 
How would you describe the faculty at Feinberg? 
In one word: committed. The faculty members I have met at Northwestern are deeply invested in the practices of medicine, science, and education. From my research adviser who has built a collaborate and supportive laboratory, to my clinical educators who always put their patients first, each in his or her own way has made a remarkable commitment to improving the health of others. In addition, the staff at Northwestern deserve special attention as well. I am always greeted and often greatly assist-ed by the people at University who enable it to function, from the librarians, to the security staff, and everyone in between. Together, we make a great community.
What are your plans for after graduation? 
After graduation, I plan to continue my clinical training in a field related to neuroscience or regenerative medicine, with the hopes of one day establishing my own translational research program. I am deeply invested in education, in part because of the instructors I have had in the past, and hope to teach in some capacity, be it in a lecture hall, laboratory, or on the wards.  
What do you did in your free time? 
Architecture and music are my two main interests outside of medicine, and I'm fortunate that Chicago has no shortage of either. The year is riddled with concerts and open houses, and I love to attend both when I have time.