Staff Q&A: Maggie Grossman, senior project coordinator, Office of Research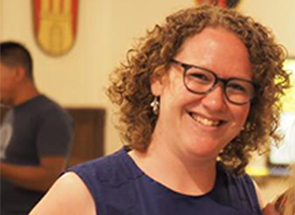 Maggie Grossman, senior project coordinator in the Office of Research, helps manage office space, laboratory space and facilities on Northwestern's Chicago campus.
Read a Q&A with Grossman below.
Where are you originally from?
I grew up in Highland Park, IL, in the northern suburbs of Chicago.
What is your educational background?
I attended University of North Carolina-Chapel Hill and earned a bachelor's in history and French — I also did a homestay study abroad program in Montpellier, France. Last year, I completed my master's degree in Higher Education Administration and Policy here at Northwestern.
Please tell us about your professional background.
I previously worked at the Newberry Library and then the University of Chicago Special Collections Research Center working with rare books and archives before I came to the Northwestern University Press. I was an editorial assistant at the Press for three years when I transitioned to a role at the Bienen School of Music as their facilities coordinator.
Why do you enjoy working at Northwestern?
I've grown up around Northwestern, as both my dad and brother are alumni — go 'Cats — and also around higher education in general as my mom is an administrator and professor across town at DePaul University. I think universities are a really fascinating ecosystem where you can bring together a lot of brilliant people to do an amazing variety of great work — everything from our medical school to an art museum to the fencing team to the philosophy books published at the Press all happens at Northwestern.
How do you help scientists or research students at the medical school?
I contribute to a lot of projects related to facilities and space management. I love problem solving and connecting people with the right resources they need so that their lab and office spaces can work as efficiently as possible, helping them achieve their best possible work.
What is your favorite part of the job?
I enjoy connecting with every department in every building of the medical school — at one point or another, I may have the opportunity to work with any given unit. I'm still relatively new to Feinberg, so if I haven't met you yet, I hope I get the chance soon!
What do you like to do in your spare time?
I love to watch movies, read comics and listen to podcasts — feel free to reach out if you'd like any recommendations! I am also part of a cookbook club that pre-pandemic would meet for a monthly dinner party — we would each bring a recipe we made out of that month's chosen cookbook. I'm a big baseball fan and in my spare time like to complain loudly about our hometown teams.
Anything else we should know about you?
I play the bassoon in the Northwestern Medical Orchestra alongside an amazingly talented group of Feinberg faculty, staff, medical students, and residents. They just performed a virtual chamber concert last week and we are looking forward to reconvening in full as soon as we can!