Center for Advanced Microscopy
Mission
The Center for Advanced Microscopy (CAM) offers state-of-the art instrumentation and services for the study of biological processes at the whole animal, tissue, cellular, and subcellular levels. The center's services include confocal microscopy, multiphoton imaging, super-resolution microscopy (SIM & STORM), microinjection, ratiometric calcium imaging, laser microdissection, high content imaging, whole animal bioluminescent and fluorescent imaging, transmission electron microscopy, platinum replica electron microscopy, scanning electron microscopy and 3D tomography. Many of our scopes come equipped with temperature, CO2, and humidity controlled chambers for live cell observation. We also will consult on computerized image analysis, and digital image manipulation.
Services Offered
Training and technical support for intravital, light and electron microscopy
Preparation of samples for light or electron microscopy
Equipment Available
The Center for Advanced Microscopy is located on the second floors of the adjoining Searle and Morton buildings. It consists of a 16-room suite that occupies approximately 5300 sf. Within the facility, there are two "wet" laboratory rooms with fume hoods, one specifically for EM sample preparation, and one available for users who need immediate laboratory set-up to complete their time-dependent imaging experiments.
Light Microscopy

CRI Nuance Spectral Imaging Microscope
Spectral Imaging Instruments LAGO bioluminescent imaging system
LaVision UltraMicroscope 2 Lightsheet System
Nikon AZ-100 Multi-purpose Zoom Microscope
Nikon A1R Laser Scanning Confocal Microscopes (2)
Nikon A1 Laser Scanning Confocal Microscopes
Nikon Biostation IM-Q Live Cell Imaging Microscopes (2)
Nikon Biostation CT High Content Live Cell Imaging Microscope
Nikon AZ100/C2 Macro Laser Scanning Confocal Microscope
Nikon A1R-MP Multiphoton Microscope
Nikon N-SIM Structured Illumination Super-resolution Microscope
Nikon Ti2 Epi-fluorescence Microscope

Nikon/Yokogawa X1 Spinning Disk Confocal Microscope with

STochastic Optical Reconstruction Microscopy (STORM)

Nikon/Yokogawa W1 Spinning Disk Confocal Microscope

Olympus DSU with Eppendorf Femtojet Microinjector
TissueGnostics Tissue Cytometer
Zeiss PALM Laser Catapulting Microdissection System
FlexCell Fx-6000T Tension System

Electron Microscopy

Bal-Tec Med 020 Coating System

BOC Edwards Auto 360 coater

Dissecting and light microscopes
FEI Tecnai Spirit G2 transmission electron microscope with 3D tomography capability

JEOL NeoScope benchtop Scanning Electron Microscope (SEM)

Leica EM CPC plunge freezer

Leica EM Automatic Freeze Substitution System

Leica Ultracut UCT ultramicrotome

Leica Ultracut UC6 ultramicrotome

Leica Ultracut UC7 ultramicrotome

One LKB 7800 knife maker

Ovens for curing resin blocks

Tousimis Samdri 790 critical point dyer
Acknowledgement
All manuscripts and grants presenting work supported by this core should include the following acknowledgement:
"This work was supported by Northwestern University's Center for Advanced Microscopy and a Cancer Center Support Grant (NCI CA060553)."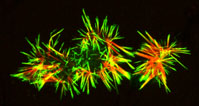 Contact
Constadina Arvanitis, PhD  
Director
(312) 503-7139
---
Location
Searle/Mortion 2nd Floor
303 E. Chicago Avenue
Chicago, IL  60611