Senyei Gift Jumpstarts Critical COVID-19 Antibody Research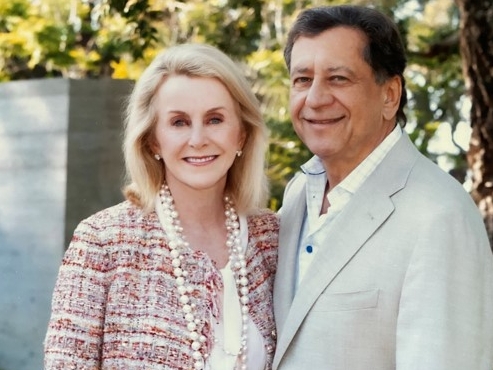 This story was published in the August 2020 issue of The Philanthropist, a newsletter for supporters and friends of Northwestern University Feinberg School of Medicine. Read the whole issue here.
The coronavirus (COVID-19) pandemic continues to hit the world hard and fast. A successful venture capitalist, Northwestern University trustee and Feinberg alumnus Andrew "Drew" Senyei, '79 MD, has spent his career scouting emerging ideas in the life sciences to improve health. There was no doubt this concerned physician and citizen would join the fight against the coronavirus by supporting innovative research at his alma mater.
This spring Dr. Senyei and his wife, Noni, made a significant contribution to kick off Northwestern's Screening for Coronavirus Antibodies in Neighborhoods (SCAN) study. Led by Elizabeth McNally, MD, PhD, director of Feinberg's Center for Genetic Medicine and the Elizabeth J. Ward Professor of Genetic Medicine, this multidisciplinary study aims to uncover the extent of previous exposure to SARS-CoV-2—the virus that causes COVID-19—in high-risk and vulnerable populations. Using a novel "no contact" antibody test, the SCAN project is focused on evaluating essential workers and their households as well as skilled nursing home staff and their households and patients.
Along with Dr. McNally, the research team includes Chicago- and Evanston-based collaborators Alexis Demonbreun, PhD, assistant professor of Pharmacology and member of the Center for Genetic Medicine; Thomas McDade, PhD, professor of Anthropology at Weinberg College of Arts and Sciences and of Medical Social Sciences at Feinberg, faculty fellow, Institute for Policy Research, and director of the Laboratory for Human Biology Research; Brian Mustanski, PhD, director of the Institute for Sexual and Gender Minority Health and Wellbeing and professor of Medical Social Sciences and of Psychiatry and Behavioral Sciences; and Richard D'Aquila, MD, associate vice president of Research at Feinberg, senior associate dean for Clinical and Translational Research at Feinberg, director of Northwestern University Clinical and Translational Sciences Institute (NUCATS), and the Howard Taylor Ricketts, MD, Professor of Medicine and Infectious Diseases.
"This is a brand new virus. Everything we know about it is only eight months old," said Dr. Senyei. "Our ability to overcome it depends on us getting to know this virus intimately. Given the urgency of the pandemic, philanthropic grants offer the fastest way to empower our researchers so we can develop strategies and policies to mitigate the impact of this health crisis."
The Power of Antibodies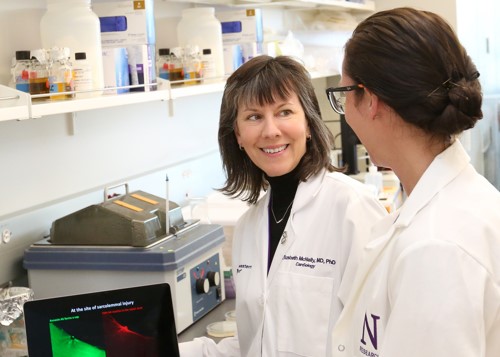 While diagnostic (or viral) testing for COVID-19 remains a number one priority for controlling the spread of the disease, antibody (or serology) testing comes a very close second. Antibodies help reveal past infection. Given asymptomatic cases may account for as many as 40 percent of total COVID-19 infections, serological tests offer an important tool for looking at where the virus has been. "We believe that the amount of infection in the population has been underestimated," said Dr. McNally. "If we learn that many more people have protective antibodies to COVID-19, that will be a good sign that we can more quickly get back to normal."
Universities and private industry have raced to introduce SARS-CoV-2 antibody tests, with the most accurate typically requiring blood drawn in a healthcare facility. Fears of infection in the clinical setting, though, have made testing difficult. Overcoming this challenge, Dr. McNally and a diverse team of scientists across Northwestern's Chicago and Evanston campuses created a new at-home antibody test. Building off the pioneering dried blood sampling method of Dr. McDade, the test requires a simple finger prick to generate a single drop of blood. Dried on a special filter paper, the blood sample is then mailed to the lab for analysis.
Although evidence of COVID-19 antibodies offers hope for preventing re-infection with the virus, it is not currently known for certain whether having these antibodies truly offers any protection. Additionally, not all antibodies provide the same level of immunity—a detail not lost on the SCAN team. "Our test uniquely looks for a particular part of the virus that is most likely associated with the development of protective antibodies known as neutralizing antibodies," said Dr. McNally.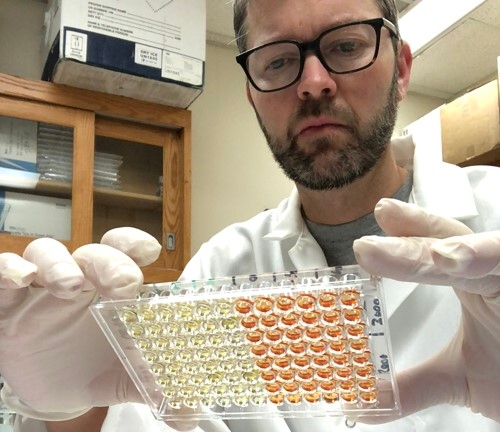 The SCAN project will evaluate 5,000 individuals for seroprevalence by testing them once this summer and then a second time in about six months. The study plan calls for correlating health status with seroprevalence at the two testing time points to determine if the antibodies offered any immunity. Thanks to the support of the Senyei family, the SCAN project will be able to perform a total of 10,000 antibody tests. "The generosity of the Senyeis literally made this project possible," said Dr. McNally.
"The virus is redefining our socioeconomic environment and dramatically changing the way we interact in all areas of our lives," said Dr. Senyei. "Anyone who can help support how we adapt and eventually defeat this virus with a vaccine can make a significant difference."
For more information about supporting the SCAN study and other COVID-19 projects, please contact Tiffany Scaparotti at 312-503-3088 or tiffany.scaparotti@northwestern.edu.