Scheck & Siress Continues Support for Prosthetics and Orthotics Research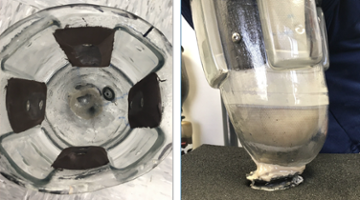 Scheck & Siress, a Chicagoland prosthetics and orthotics practice now part of national company Hanger Clinic, remains a steadfast supporter of the Northwestern University Prosthetics-Orthotics Center (NUPOC). Since the 1990s, Scheck & Siress has generously funded research to help people who live with physical disability.
Here, Stefania Fatone, PhD, professor of Physical Medicine and Rehabilitation and a faculty member in NUPOC, shares how philanthropy from Scheck & Siress has advanced her work.
 "One of the major challenges in conducting research is having resources to enable exploration and development of new ideas that will hopefully lead to the pilot data needed to apply for larger research grant submissions for new projects. The gift from Scheck & Siress (now Hanger Clinics) provides the resources needed to explore new ideas.
"For example, I worked with Scheck resident Claire Kilpatrick and Scheck prosthetist Ryan Caldwell, CP, to develop an idea we had for how we might systematically explore the effect of prosthetic socket surface area on the ability of persons with transfemoral amputation to comfortably bear weight through the socket during standing and walking. Pictured above is an example of a prototype check socket we created with removable panels that can be fit to a person with transfemoral amputation and allow us to systematically vary the surface area of the socket.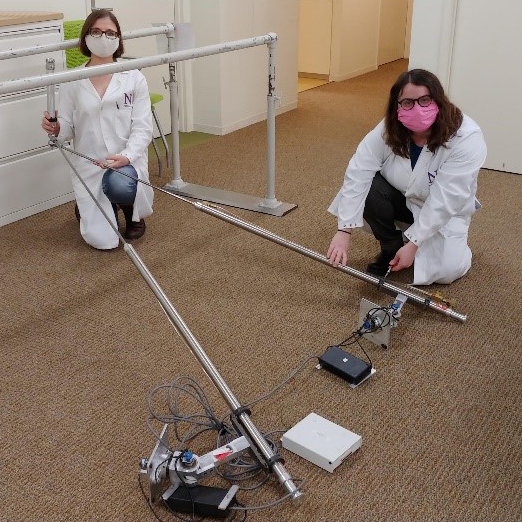 "As another example, I am working with my new research engineer, Liridona Ashiku, to reconstruct a prototype socket fit testing apparatus developed by a former graduate student. Liridona (right) and I (left) are shown here working to set up the pneumatic pistons that are part of the system.
"I am so grateful to the Scheck & Siress team for their enduring support, which has made it possible for us to conduct this vital research."
For more information about supporting NUPOC, please contact Jordan Sund at jordan.sund@northwestern.edu or 312-503-2706.