A Grateful Patient Thanks His Hematologist by Supporting Her Research
This story was published in the March 2020 issue of The Philanthropist, a newsletter for supporters and friends of Northwestern University Feinberg School of Medicine and Northwestern Memorial Foundation. Read the whole issue here.
In 2005, Richard Ryan's primary care physician in DeKalb, Illinois, found signs of cancer in his abdomen after a CT scan. It looked like non-Hodgkin lymphoma, a blood cancer that occurs when the body produces too many abnormal white blood cells called lymphocytes. The physician recommended that Mr. Ryan seek care from hematologist Jane Winter, MD, at the Robert H. Lurie Comprehensive Cancer Center of Northwestern University.
Now, almost 15 years after they first met, Mr. Ryan is honoring Dr. Winter with a generous gift that will fund a research nurse focused on clinical trials in the lymphoma program at Northwestern.
After his original diagnosis in 2005, Mr. Ryan, a former president of DeKalb Genetics and vice president of Monsanto, visited Dr. Winter every few months for scans and blood tests to monitor his cancer. He started chemotherapy after his lymphoma began growing early last year.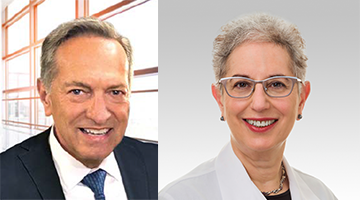 "I decided to support Dr. Winter for two reasons," Mr. Ryan shared. "First, to acknowledge her expertise and leadership in the field of hematology, and, second, to say thank you for the exceptional care she and her team have provided me. As a result of their care and counsel over the last few months, I am now in remission."
Dr. Winter, a professor of Medicine in the Division of Hematology and Oncology who has served on the medical school's faculty for more than 30 years, has not only been recognized by patients such as Mr. Ryan, but also by her peers in the field. She was recently elected vice-president of the American Society of Hematology, the world's largest professional society focused on the causes and treatment of blood disorders, and will become president-elect in 2021 and president in 2022.
Dr. Winter is the principal investigator of several clinical trials testing new therapies for non-Hodgkin and Hodgkin lymphoma patients. The new research nurse position made possible by Mr. Ryan will focus on the care of participants enrolled in trials for lymphoma.
"I am overwhelmed by Mr. Ryan's generosity and confidence in our clinical research program for lymphoma," Dr. Winter said. "The past few years have been the most exciting of my entire career because of the large number of FDA approvals for new drugs for hematologic malignancies. Every one of these approvals is based on the results of clinical trials. Some of my patients are alive today only because of a new treatment and some because they participated in a clinical trial."
The new nurse will educate patients on clinical trials, assure participant safety and adherence to protocol and handle patient follow-up.
"We anticipate that this important addition to our team will have a major impact on the numbers of patients enrolled in our clinical trials and most importantly on the patient experience," Dr. Winter said. "We are so grateful for Mr. Ryan's support."
Likewise, Mr. Ryan says one experience in particular stands out to him when he thinks of Dr. Winter and her own support of him as a patient.
"After my fourth chemo treatment last August, my immune system was low, and I came down with a bacterial infection," he recalls. "I was in the hospital, and Dr. Winter came down to see me immediately to tell me what was causing the infection from recent test results. I'll not forget how quick and responsive she was in my time of need."
For more information about supporting hematology and oncology, please contact Terri Dillon at 312.503.4837 or terri-dillon@northwestern.edu.