The Investiture of Dr. Kurt Q. Lu as the Eugene and Gloria Bauer Professor of Dermatology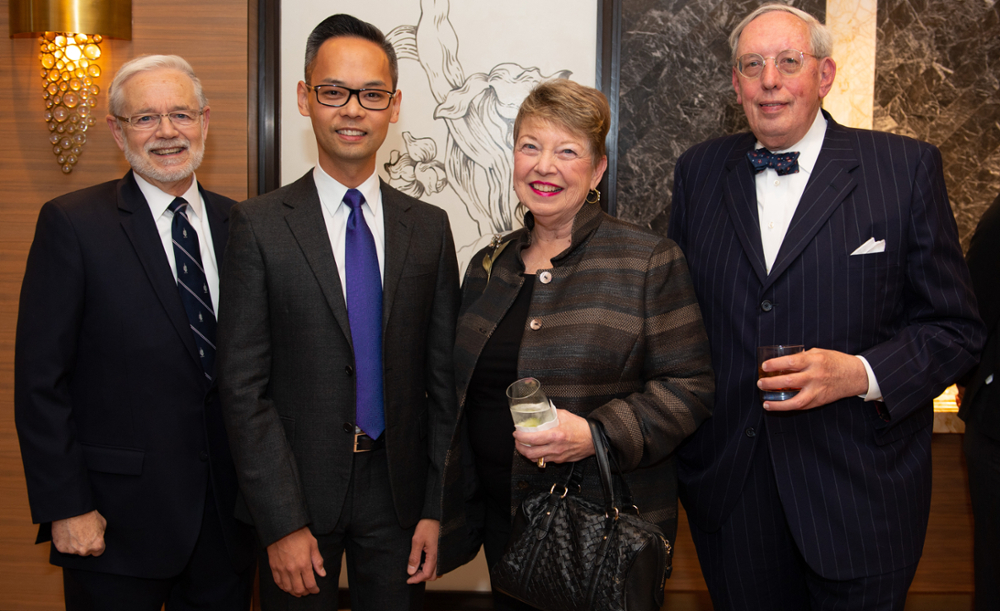 Kurt Q. Lu, MD, was formally invested as the Eugene and Gloria Bauer Professor of Dermatology at Northwestern University Feinberg School of Medicine on April 29, 2019, at a ceremony at the Peninsula Chicago. This prestigious academic position represents the highest honor a university can bestow upon its faculty and provides protected time for Dr. Lu to pursue research projects and other scholarly pursuits.
"Endowed professorships are the bedrock of every great university," said Amy S. Paller, MD, chair and Walter J. Hamlin Professor of Dermatology, who served as emcee at the investiture. "Reliable, long-term support from an endowment will facilitate commitments to senior faculty, initiate pioneering research, develop stronger teaching programs, invest in new technologies, and maintain laboratories and other physical assets."
The new professorship was established in honor of alumnus Eugene A. Bauer, '67 MD, and his wife, Gloria Bauer '67, a graduate of Northwestern's former nursing program. The two are long-time supporters of Northwestern and the field of dermatology. In 2009, admiration for Dr. Bauer's early mentor, Ruth K. Freinkel, MD, led the Bauers to establish the Ruth K. Freinkel, MD, Research Professorship in Dermatology, their first endowed professorship, now held by Jaehyuk Choi, MD, PhD, assistant professor of Dermatology and of Biochemistry and Molecular Genetics at Feinberg.
"Dr. Paller has built what I believe to be the most balanced dermatology department in the country," said Dr. Bauer. "She has wonderful investigators in basic science, wonderful clinicians spread across all of the Northwestern locations, and a coterie of wonderful clinician-scientists, as embodied by Jae Choi and Kurt Lu, who have insights in basic science and can bring those insights to clinical medicine."
"Northwestern gave us our future, and it's nice to pass it on to someone else," Mrs. Bauer added.
A Leader in Dermatology
The Bauers met at Northwestern, married in 1966, and both graduated from Northwestern the following year. Dr. Bauer went on to complete a residency and research fellowship in dermatology and served as a faculty member for 17 years at Washington University in St. Louis. He became chair of Dermatology and then dean of Stanford University School of Medicine. He retired in 2003 with emeritus status as the Lucy Becker Professor. Along the way, Dr. Bauer also founded a major dermatology company, Connetics, Inc., which was acquired by Stiefel Labs in 2006.
In 2004, Dr. Bauer became the founding CEO of a startup dermatology company, Neosil Inc., which was acquired by Australian-based Peplin Inc. in 2008. Dr. Bauer became president and chief medical officer of Peplin. In 2010, Dr. Bauer co-founded another dermatology firm, Dermira Inc., and he still serves full time as chief medical officer for Dermira.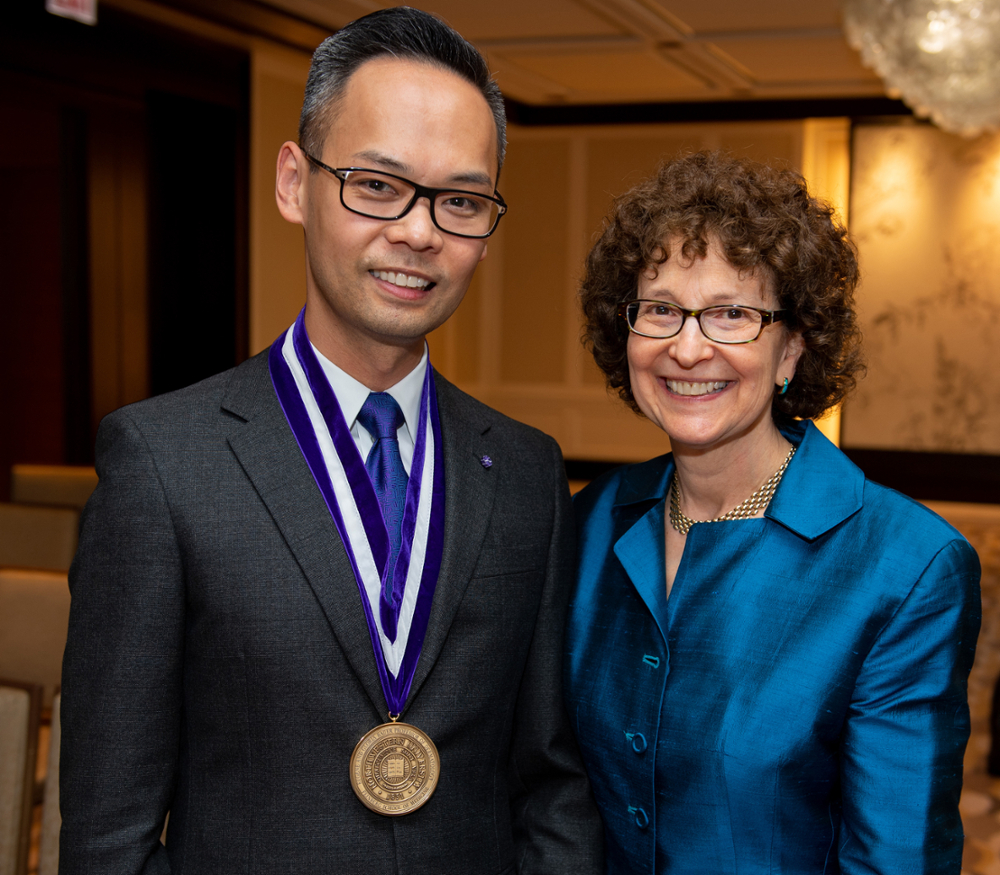 A Rising Star in the Field
Dr. Lu is highly regarded as an excellent clinician, scientist, and educator. His research interests focus on understanding and controlling inflammation in the skin. Working in the area of translational biology, Dr. Lu's work spans the gamut from cell biology, to model organisms, to clinical trials. He is director of the In Vivo Skin Testing unit and associate director of the Translational and Experimental Skin Testing & Immune Tracing core at the Northwestern University Skin Biology and Diseases Resource-based Center. He is also a member of the Robert H. Lurie Comprehensive Cancer Center of Northwestern University. The ultimate goal of his work is to translate findings into the development of therapeutics for mediating skin and wound repair.
In pursuing his goal, Dr. Lu already has developed methods for repurposing drugs, such as the use of ultra-high doses of vitamin D3 in controlling innate immune activation in the skin. His work has led to national and international recognition for the potential use of vitamin D3 and other immune-modifying drugs following skin injury in clinical scenarios such as UV sunburns and skin wounds from toxic chemical exposure. Dr. Lu's work in the area of chemical exposures has shifted the focus in the field of skin toxicology towards the underlying immune response as a strategy for the development of therapeutics.
John McGrath, MD, the Mary Dunhill Chair in Cutaneous Medicine at King's College London, served as Dr. Lu's extoller during the ceremony. The two met more than 15 years ago at a Society for Investigative Dermatology meeting.
"As a friend, I am so proud of all your achievements, both academic and personal, over the past several years," shared Dr. McGrath. "And I think Northwestern is certainly going to be very proud to have you as a named professor."
Raised in the Bronx after he and his family fled the Vietnam War, Dr. Lu joined Feinberg in 2018 as an associate professor after serving on the faculty at Case Western Reserve University and University Hospitals of Cleveland for more than a decade.
"I am just filled with joy every day going to work," said Dr. Lu to all of the colleagues and loved ones who joined him to celebrate his investiture. "I hope with this professorship, we will continue to grow together, building new bridges, making new connections."
"I am deeply grateful for my mentors and my community, and my hope is to honor them moving forward," he added. "Thank you again to Gloria and Dr. Eugene Bauer, Dean Neilson, Dr. Paller, and to the faculty and staff and my friends and family."