Celebrating and Supporting Our Les Turner ALS Foundation Partner
There is no cure for amyotrophic lateral sclerosis (ALS), and little is known about what causes this devastating neuromuscular disease. But on February 22, nearly 600 friends, family members, caregivers, scientists, and philanthropists joined 24 patients at the Les Turner ALS Foundation's Hope Through Caring Gala to celebrate their shared conviction that today's reality will not prevail.
The group came together to support the Les Turner ALS Foundation in its efforts to ensure that people living with ALS receive the best possible care and that the brightest minds are able to work toward better treatments and, one day, a cure. This year, generous attendees donated over $900,000—a fundraising record—to help the Foundation accomplish its important goals in partnership with the Les Turner ALS Center at Northwestern Medicine.
"Through the support of people like each of you, and the leadership of people like [our honorees] Ed Rapp and Matt Creen, we will continue to help people living with ALS along every step of their journey until we have fulfilled our shared vision of seeing a world free of ALS," declared Andrea Pauls Backman, chief executive officer of the Les Turner ALS Foundation, during the evening's opening remarks.
Ken Hoffman, chair of the Les Turner ALS Foundation Board of Directors, recognized two supporters in particular, Joan and Paul Rubschlager. 
"Joan and Paul donated a cornerstone gift of $2 million to fund the establishment of the Les Turner ALS Center at Northwestern Medicine," Hoffman said. "And this year, I am honored to say, they have again gifted us with their great generosity through another $1 million donation."
In honor of the gift, Center Director Robert Kalb, MD, will be named the Joan and Paul Rubschlager Professor.
Advocates for ALS Honored
This year's gala honored two people leading the charge in fundraising and building awareness for ALS—both while experiencing the disease firsthand as patients.
Ed Rapp, retired group president at Caterpillar Inc. (CAT) and chairman of the advisory board for Answer ALS, received the Harvey and Bonny Gaffen Advancements in ALS Award.
"Just like his leadership style at CAT, Ed's approach to fighting ALS has been innovative and collaborative," said Dimitri Krainc, MD, PhD, chair and Aaron Montgomery Ward Professor in the Ken and Ruth Davee Department of Neurology at Northwestern University Feinberg School of Medicine, who introduced Rapp at the gala.
Through his donor-advised fund Stay Strong vs ALS, Rapp has raised nearly $12 million to fight ALS, much of it in support of Answer ALS. The largest coordinated collaborative ALS research effort in history, Answer ALS is building a comprehensive database of clinical, genetic, molecular, and biochemical data on ALS and sharing it with the global research community. The Les Turner ALS Center at Northwestern Medicine is one of its participating sites.
"It's been less than three years since Answer ALS launched, and with only 1 percent of collected data analyzed, the data science team has already identified several biological signatures that will help us define some groups of ALS patients," Dr. Krainc said. "I'm confident that this monumental effort is going to have a major impact on ALS research and development of more personalized and more targeted approaches to [diagnose and treat] ALS."
Before calling Rapp to the stage, Dr. Krainc shared a personal note about his relationship with the awardee.
"I have been privileged and honored to get to know Ed in the last couple of years," Dr. Krainc said. "Our conversations always remind me about the truly important things in life: the love and support of our family and friends and our common humanity that brings us together when facing serious challenges in life."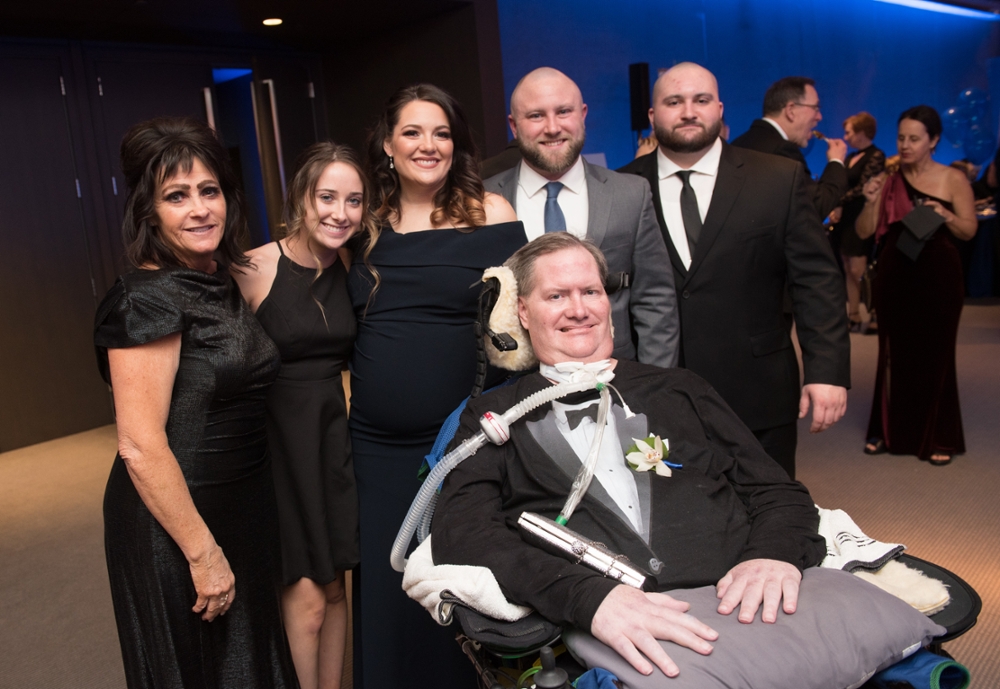 Rapp's resiliency and positive attitude came through in his speech, in which he focused on the gifts he has experienced since his diagnosis—like spending more time with his wife and finding a new purpose by getting involved in ALS advocacy—and the hope he feels for a better future.
"At the end of the day, we won't be measured by job titles, personal challenges, or even a diagnosis," Rapp said. "We will be measured by how we respond and the contributions we make, and I simply want a passing grade. You showing up this evening indicates you want the same."
The gala also honored Matt Creen, a patient with a similar outlook on life, with the Hope Through Caring Award. Creen's annual golf outing has raised more than $450,000 for the Les Turner ALS Foundation.
"The rule around our house is no tears. We have embraced life, and are truly joyful every day," he shared. "I thank all of you who have supported me, and have supported the Les Turner ALS Foundation in their quest to support ALS patients, and create a world without ALS."
A Longstanding Partnership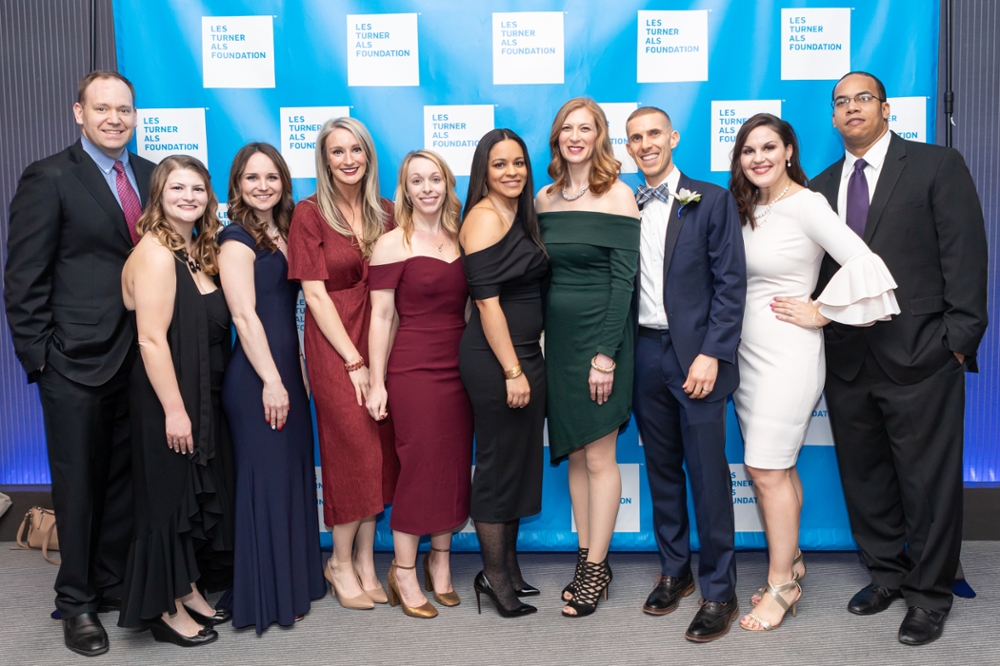 The Les Turner ALS Foundation is named for Les Turner, who was diagnosed with ALS in 1976 when little was understood about the disease and patient resources were nearly nonexistent. A small group of Turner's friends and family formed the Foundation in 1977, proclaiming that no one should have to go through ALS alone. Since then, the Les Turner ALS Foundation has been the leader in comprehensive ALS care in Chicagoland.
The partnership between the Les Turner ALS Foundation and the Northwestern Medicine academic health system dates back to 1979 when the Les Turner ALS Foundation established the first Les Turner ALS Research Laboratory. In 1986, the relationship was further cemented when the Foundation opened the Lois Insolia ALS Clinic, one of the nation's first multidisciplinary ALS clinics.
Throughout its relationship with Northwestern Medicine, the Les Turner ALS Foundation has directly funded more than $30 million in research and clinical care. The Foundation also facilitates in-home support services provided by nurses and social workers for people living with ALS, support groups, equipment loans, support service grants, and educational activities, all to help people living with ALS and their families every step of their journey.
In 2014, the Foundation made a leadership commitment of $10 million to help establish the Les Turner ALS Center at Northwestern Medicine. The center strives for a future without ALS by accelerating leading-edge research while providing life-enhancing treatment to people living with ALS. The Foundation continues to partner with Northwestern to raise $10 million to endow the Center in perpetuity.
Learn more about the Les Turner Foundation.
Make a gift to support ALS research.
For more information about supporting the Les Turner ALS Center, please contact Jordan Sund at jordan.sund@northwestern.edu or 312-503-2706.