Harold E. Eisenberg Foundation Commits $1.5 Million to Fund GI OncoSET Program at Lurie Cancer Center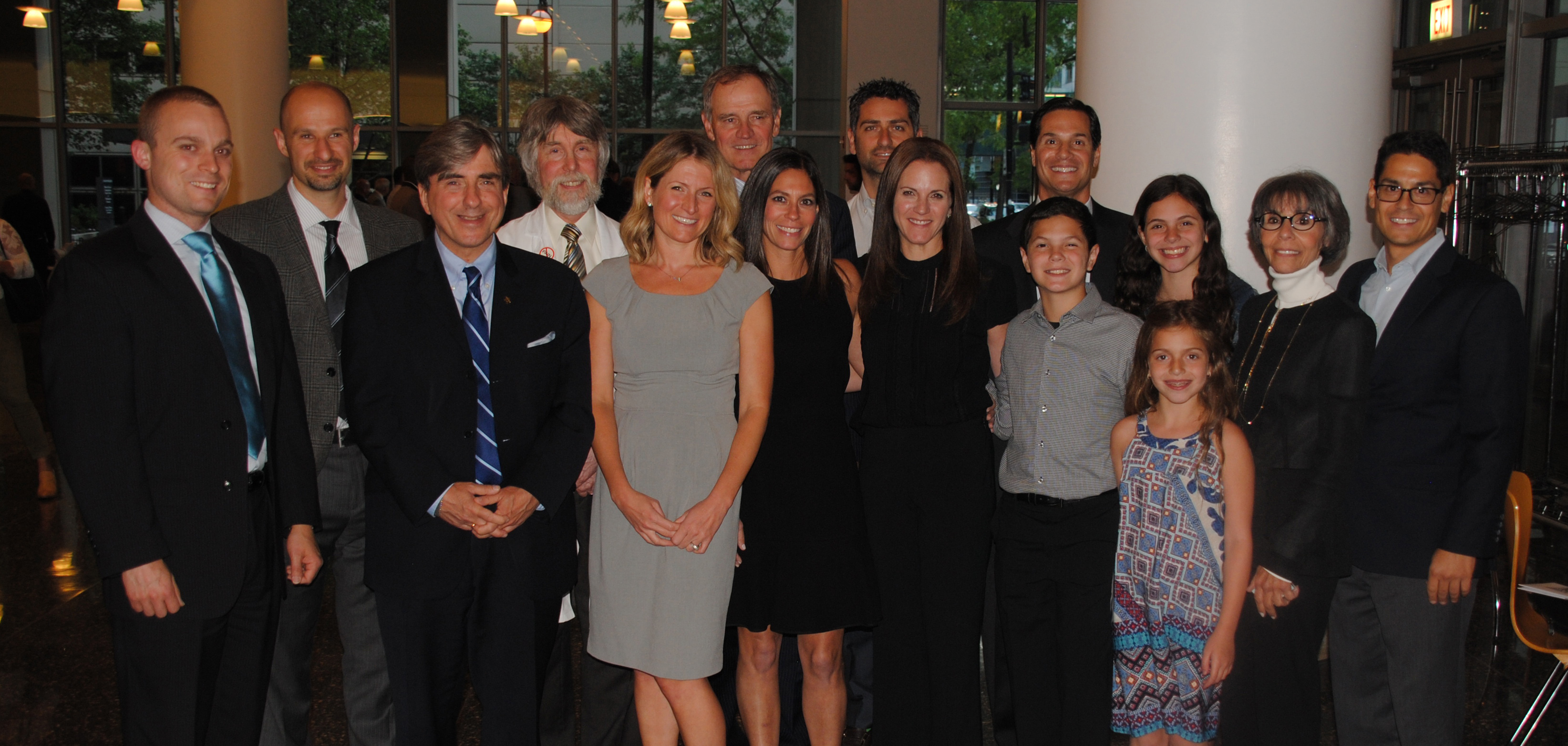 The Harold E. Eisenberg Foundation, a longtime supporter of gastrointestinal (GI) cancer research at the Robert H. Lurie Comprehensive Cancer Center of Northwestern University, recently announced a commitment of $1.5 million to renew its support of Northwestern and to establish the Harold E. Eisenberg Foundation GI Cancer OncoSET Program at the Lurie Cancer Center. The announcement came at the Foundation's annual meeting on June 7.
"The need for personalized therapies in the area of GI cancers is desperate. We believe in the enormous potential of this investment," said Katie Wales, executive director of the Foundation.
The Future of Cancer Medicine: OncoSET
OncoSET (Sequence, Evaluate, Treat) couples oncology with genomics, providing patients with personalized medicine by targeting tumors that are not responsive to current standard forms of treatment. At the Lurie Cancer Center, members use genomic profiling of individual tumors to guide the selection of therapy. These therapies are chosen from a broad spectrum of novel agents that are available at Northwestern through clinical trials. This approach takes advantage of tumor-defined targets to develop individually tailored treatments.
"This is truly a remarkable commitment from the Harold E. Eisenberg Foundation, and we thank you," said Leonidas C. Platanias, MD, PhD, director of the Lurie Cancer Center. "There have been so many advances in technology and the use of big data that are allowing us to do amazing things. Differentiating cancers by sequencing tumors is something we could not have done just a few years ago." Dr. Platanias also is the Jesse, Sara, Andrew, Abigail, Benjamin, and Elizabeth Lurie Professor of Oncology at Northwestern University Feinberg School of Medicine.
A Strong History of Philanthropy at Northwestern
The Harold E. Eisenberg Foundation, also known as HEEF, was founded to honor the life and legacy of Harold (Hal) Eisenberg, a leader in the world of real estate, who passed away suddenly from liver cancer in 1999. In addition to the HEEF's work in support of real estate education at the University of Illinois, the Foundation is dedicated to funding breakthrough GI cancer research at the Lurie Cancer Center.
"We have developed a true partnership with Northwestern," said Peter Eisenberg, president of the HEEF and son of the late Harold E. Eisenberg for whom the Foundation is named. "We are excited about the progress we've been able to support and excited for propelling even more. All of the pieces are in place for an incredible future working together."
This latest commitment from the Foundation will open new doors at the Lurie Cancer Center, following in the footsteps of its other impactful philanthropic gifts totaling more than $1 million at Northwestern. Through the Harold E. Eisenberg Fund for Gastrointestinal Oncology Research and the Harold E. Eisenberg Gastrointestinal Cancer Tissue Bank, the Foundation has done much to advance the efforts of Al B. Benson, MD, professor of Medicine in the Division of Hematology/Oncology at Feinberg and member of the Lurie Cancer Center.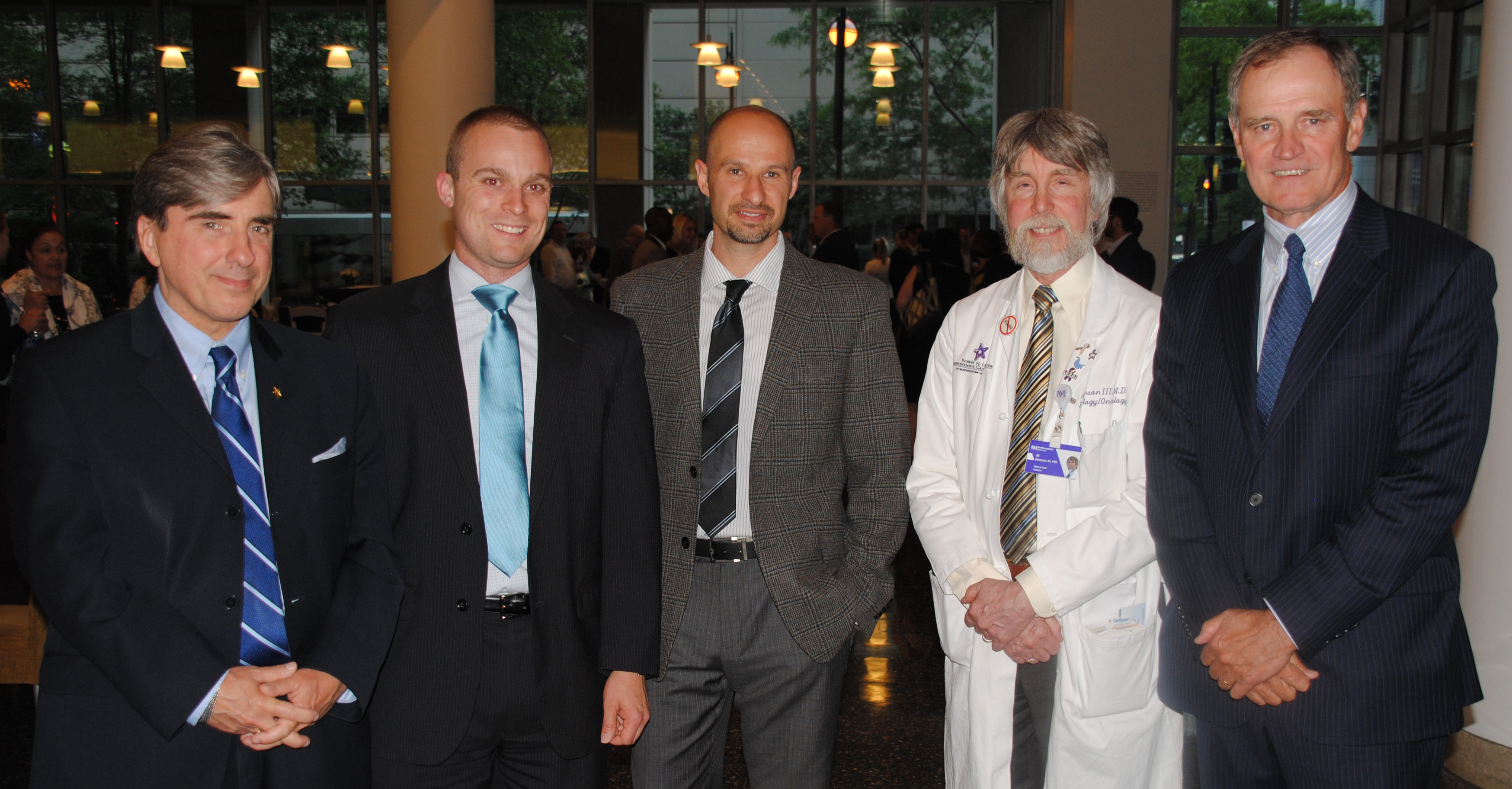 The Eisenberg GI Tissue Bank currently stores over 20,000 colorectal cancer tissue samples, equipping researchers with the ability to study what characterizes cancer tissues and to develop investigations aimed at improving prevention, detection, and treatment. The Foundation also supports the vital work of clinical research nurse Victoria Maurer, MDN, RN, OCN, CNE, who coordinates all ongoing GI cancer clinical trial activity.
In addition to these initiatives, in 2016, the HEEF created the Harold E. Eisenberg Foundation Scholar Award. This prestigious award was created at the Lurie Cancer Center to reward ingenuity, providing scientists with the resources and protected time needed to ask novel research questions and to explore new ideas aimed at discovering cures for GI cancers.
The inaugural Harold E. Eisenberg Scholar was Guang-Yu Yang, MD, PhD, who is the Joseph C. Calandra Research Professor of Pathology and Toxicology. With support from the Harold E. Eisenberg Foundation Scholar Award in 2016, Dr. Yang aimed to develop a novel and effective strategy for the treatment of the highly lethal BRAF-mutant colorectal cancer.
At the 2017 annual meeting, Foundation members heard from the 2017 Harold E. Eisenberg Scholar, Ronen Sumagin, PhD, assistant professor of Pathology. Dr. Sumagin's current work focuses on leukocytes and their interactions with endothelial and epithelial cells. He hopes to determine the contribution of inflammation (caused by a certain type of white blood cell called PMN) to the development and progression of colon cancers.
"I am truly honored and wish to thank you all for your continued support of the Lurie Cancer Center, particularly as federal funding continues to shrink," said Dr. Sumagin. "Your support is invaluable."