Few gifts offer greater satisfaction than a gift to scholarships—one that fosters the promising futures of deserving and exceptional students, and lives in perpetuity through their accomplishments. Through a scholarship commitment, donors have a lasting impact on today's students and the promise of their future medical careers.
At Feinberg, we want to offer the choice of a medical education to individuals with a dream to help others through a career in medicine—regardless of their financial means. Along with an outstanding faculty, meaningful clinical experiences, and top-notch research opportunities that already exist, we must bolster our scholarship funding to attract and retain these exceptional students. Scholarship funds allow us to offer financial assistance to top prospects with diverse backgrounds and experiences, ensuring that financial barriers will not deter top applicants from pursuing a Northwestern University medical degree.
276 of our medical students are currently receiving funds from 163 named scholarships
$191 million is the current value of Northwestern's scholarship endowment
$800 million is our scholarship endowment goal
Donor Opportunities for Scholarships
With an immediate-use gift in support of scholarships, you can see your philanthropy in action. These expendable gifts create new scholarship funds and last until all principal funds are distributed to students.  With a commitment of $50,000 or more, donors are invited to name the scholarship. 
Endowed scholarships stipulate that your gift will be invested and the principal will remain intact. Each year a percentage of the interest earned on the endowment is awarded as scholarship support. Endowed funds are held in perpetuity by Northwestern University, forever supporting medical scholars:
$100,000 is the minimum gift to create a named scholarship fund at the medical school.
$250,000 is the preferred gift to create a named scholarship fund that will provide important financial assistance to our students.
$1.5 million will create a named scholarship fund that will provide full-tuition support for a medical school.
Expressions of Gratitude
"When I think beyond myself to the impact your family has made on the medical field, I can only begin to wonder at the number of students your family has helped over the years; the physicians that those students grew up to be, and the patients they have saved throughout the course of their practice."
Jessica Hsueh, Class of 2019
Dr. and Mrs. Alfred S. Burdick Scholar
Contact Us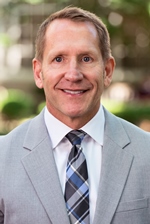 Contact Larry Kuhn to discuss naming a scholarship fund at Northwestern University Feinberg School of Medicine.
Larry Kuhn
312-503-1717