Committee Access in the Feinberg Faculty Portal
Within the Feinberg Faculty Portal, the Case Review Module is used to manage the promotion process and solicit reference letters. Below department administrators can review who has access to review and manage cases in this module.
About Committees
Within the Case Review Module, a "committee" is the group of people (or a single person) who have access to see cases at particular steps in a workflow. Adding individuals to a committee gives them access to all cases that are in a workflow step the committee is allowed to see. Removing an individual from a committee prevents that individual from seeing cases visible to the committee. There are three committees set up for each Feinberg department.
Dept Staff: Department staff who manage the promotion process and/or solicit reference letters for new faculty appointments
Dept Chair & Admins: Department Chair (and other leaders such as Vice Chair, if department wishes) plus the individuals in the Dept Staff Committee (above)
Dept APT Committee: Departmental APT Committee members plus the members of the Dept Chair and Admins Committee (above)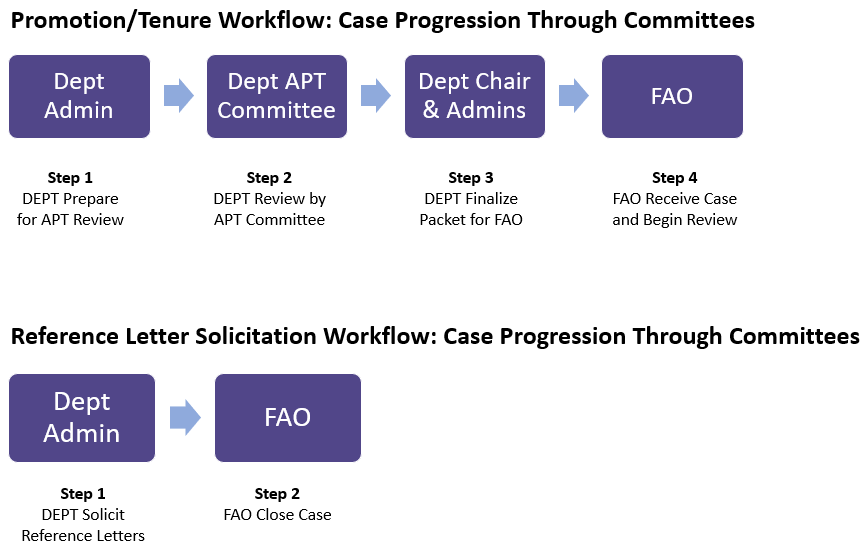 Review Committee Access
The report below shows committee membership for each department. To request updates to committee membership, contact fao@northwestern.edu. Keep in mind that department staff will be added to all three committees so that they retain access to promotion cases throughout the full 3-step departmental promotion/tenure workflow.