Feinberg students, residents and fellows are doing some extraordinary things in the clinical spaces, research labs and out in the community. Here we share internal and external recognition they have received.
Feinberg News Center
For all the news on Feinberg discoveries and campus activity, visit our News Center.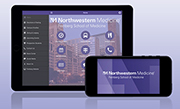 Mobile App
The Feinberg app delivers mobile access to school information, including news, events, online directory and campus maps. Learn more or visit the app store on your device.