We welcome your questions and comments at the Office of Admissions at Northwestern University Feinberg School of Medicine.  Please connect with our office via the information below.   
Northwestern University
Feinberg School of Medicine
Office of Admissions
Morton Building 1-606
310 East Superior Street
Chicago, Illinois 60611-3008
312-503-8206
med-admissions@northwestern.edu
Feinberg School of Medicine Office of MD Admissions offers limited group tour opportunities for colleges and universities, primarily from late February through early May.  Please email group tour requests directly to the Office of Admissions, including group type and size, dates and times, and general tour expectations.  We do not offer tours of the school or campus to individuals.  Prospective applicants who wish to stop by the Office of Admissions should phone or email our office at least one week in advance.  To maintain the integrity and fairness of the admissions process, we do not meet with current applicants outside of interview day. 
Inquiries re: visits to the Office of Diversity and Inclusion should be directed to the ODI office.
Learn more about the Feinberg School of Medicine:
Inside the Feinberg Curriculum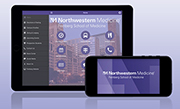 Mobile App
The Feinberg app delivers mobile access to school information, including news, events, online directory and campus maps. Learn more or visit the app store on your device.