Augusta Webster Fellowship
In 1991, a generous gift from Barbara Olin Taylor, PhD, endowed this fellowship in honor of Augusta Webster, MD.
A member of Northwestern's Class of 1934, Webster was the first woman to be named a full professor at the medical school and in 1960 became the first woman in the country to head a department at a major teaching hospital — the Obstetrics and Gynecology Department at Cook County Hospital. It was at "the County" that she earned her fame as a teacher of medical students and obstetrical residents and as a dedicated physician and friend to the medically underserved people of Chicago.
The Augusta Webster Faculty Fellowship in Educational Research and Innovation is an opportunity for career development through investigator-proposed, innovative research projects in health professions education-related scholarship and research. Learn more below. Email dmeeri@northwestern.edu if you have any questions.
 Goals
The goals of the fellowship are to:
Provide mentorship, support and career development to junior faculty members who are establishing careers focused on scholarship and research in education
Promote innovation in health professions education research
Serve as pilot funds to lead to future educational research and grants
Facilitate rigorous educational research at all levels
 Requirements
Applications must have a primary investigator who is a full-time faculty member at the Feinberg School of Medicine, be less than seven years from the date of their first faculty appointment and have a rank no higher than assistant professor at the time of the application deadline. If you are more senior but new to education and interested in applying, please contact us. Single-investigator applications are preferred; however, joint applications will be considered with prior approval from the committee.
Successful proposals will address current issues or challenges at any level of health professions education. The committee will give preference to projects that are innovative and serve as pilot research for future research.
Projects should last no less than one year but no more than two years.
 Funding
Applicants may request between $15,000-$25,000 annually ($50,000 maximum funding request).
All salaries budgeted must adhere to the current NIH salary cap.
The primary investigator is expected to allocate a minimum of 10% FTE over the course of the grant with recommended distribution of 5% FTE salary as part of the budget. The minimum FTE budgeted on the grant is 5% FTE; however, more may be budgeted.
Funds may be designated for faculty, staff or student support, research or programmatic funding or travel costs associated with the project. Supplies specific to the purpose of the project (e.g., books, specialized software, teaching or assessment aids) may be included. However, general supplies (e.g., computer hardware) should be considered in-kind contributions from your department.
 Application Process
1. Applicant submits online forms, including:
Online application form
Descriptive title of proposed research
Name, title, department, address, email and telephone number for principal investigator applicant
250-word research abstract
Names of other key personnel
Brief description (one page) of proposed research and methods with sections headers for approach, feasibility, innovation and potential impact
Number of years, estimated overall budget for each year and estimated percent effort for each year
CV of primary investigator in Northwestern University Feinberg School of Medicine format
2. Committee reviews applications and those deemed to have good potential (five to six applications) are invited to move into a six- to eight-week mentored proposal development program.
3. Individuals accepted into the proposal development program will be expected to commit to a total of six hours of in-person meetings over an eight-week period. Meeting days and times will be determined by the consensus of the group after selection.
4. Final, full proposals are submitted at the end of the eight-week period, including:
Six- to eight-page full proposal
Works cited (maximum one page)
Educational instruments being used in the study (if applicable)
Budget using the NIH SF424 form and a written budget justification
Letter from chair/division chief supporting time commitment
5. The committee will release final funding decisions two weeks after proposal submission.
6. Funding for selected projects will begin starting in the next fiscal year.
The Educational Research and Innovations committee will provide mentorship and evaluation.
 Current & Recent Projects
2016-2018
Development and Evaluation of an Innovative, Interactive Curriculum to Train Physicians to Address Vaccine Hesitant Families and Patients
Zarina S. Dohadwala, MD, Instructor of Pediatrics-Hospital-Based Medicine
2016-2018
Mastery Learning of Neonatal Resuscitation Skills by Pediatric Residents Using Simulation Technology and Deliberate Practice
Arika G. Gupta, MD, Instructor of Pediatrics-Neonatology
2016-2018
Can Medical Students, Acting as Health Coaches, Add Value to Primary Care and Improve Health Outcomes?  Assessing the Clinical Impact of the Education-Centered Medical Home Program
Bruce L. Henschen, MD, MPH, Assistant Professor of Medicine-General Internal Medicine and Geriatrics
2014-2016
A Qualitative Analysis of Pre-clerkship Student Portfolios to Assess Teamwork Skills and Attitudes
Brigid M. Dolan, MD, Assistant Professor of Medicine-General Internal Medicine and Geriatrics
2014-2016
Improving the assessment of internal medicine residents
Bernice Ruo, MD, Assistant Professor of Medicine-General Internal Medicine and Geriatrics
2012-2015
Teamwork and Communication in a Pediatric Cardiac Intensive Care Unit
Mary E. McBride, MD, Assistant Professor in Pediatrics-Cardiology
2012-2013
Does a faculty development project in cardiac auscultation lead to sustained improvement in cardiac exam skills for the faculty, and does that translate into an improvement in the cardiac exam skills of medical student learners?
Eric W. Schaefer, MD, Assistant Professor in Medicine-Hospital Medicine
2012-2015
Developing and Evaluating a Mastery Learning Program for Code Status Discussion Skills
Rashmi K. Sharma, MD MHS, Assistant Professor in Medicine-Hospital Medicine
2012-2015
Utility of an errors-based curriculum to improve advanced skill acquisition in surgery
Shari L. Meyerson, MD, Associate Professor in Surgery-Thoracic Surgery and Medicine-Pulmonary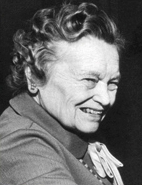 Augusta Webster, MD
(1903-1993)