About Research Day
Research Day
Research Day is a campus-wide event to promote faculty and trainee development through sharing of exciting research and conversation with colleagues. Junior faculty are especially encouraged to submit abstracts and to network and exchange ideas with Feinberg faculty. Research Day also provides an opportunity to learn about the Research Cores and the full spectrum of support they provide for clinical and basic science research.
Announcements
Thank you to the entire Feinberg School of Medicine community for another exciting Research Day. A list of 2013 poster session winners is now available, and the full text of all submitted abstracts will remain available for download.
General Information
Save the date: The next Research Day is slated for Thursday, April 3, 2014.
Abstracts
View all 385 submitted 2013 abstracts.
Multimedia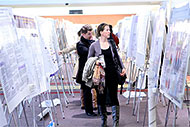 2013 Research Day photos have been posted on Flickr. 
A video recap is available on YouTube. 
Contact Us
Have a question? Contact the Research Office.
This page last updated Apr 18, 2013