Women Artists Behind the Desk Showcases Creative Talent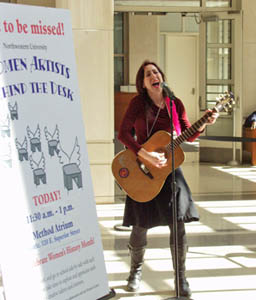 Anita Chase from the deans administration plays an original tune, "Ride." She performs around town as a solo artist and as part of the rock group ½ Mad Poet.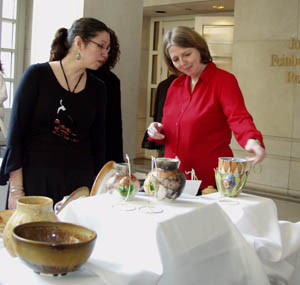 Research assistant professor of cell and molecular biology Gabriella Sekerkova shows off some of her work to an appreciative Claudia Moreno, who earlier demonstrated her own skills as a flamenco dancer.
Women Artists Behind the Desk Showcases Creative Talent
You may know some of your coworkers are good at their jobs, but they may have wholly different talents when they aren't behind their desks. Each year during Women's History Month (otherwise known as March), the Women's Center at Northwestern encourages women artists to step into the limelight. This year's Women Artists Behind the Desk was held on the Chicago campus in the Method Atrium on March 6. About two dozen faculty and staff members and students from both campuses participated.
The Feinberg School was well represented, including a performance by guitarist-singer Anita Chase, deans administration. She played and sang two original songs, "Ride" and "Train." The latter appears on the 2002 CD "Pictures," by ½ Mad Poet, the three-piece all female rock band for which Chase plays lead guitar and sings. Members of the Office of Student Programs and Professional Development Diane Hill, program coordinator 3; Jennifer Langland, coordinator of student activities, and Angela Nuzzarello, MD, MHPE, associate dean, all were part of the Knitter's Circle along with Jennifer Malloy, department assistant 2 for otolaryngology—head and neck surgery. The group actively knitted during the event and displayed a few items they had created, including a handbag. Gabriella Sekerkova, research assistant professor of cell and molecular biology, showed off pottery and hand-painted eggshells.
Several medical students also contributed displays, including Jill Larson and Michelle Lin, who both contributed oil paintings, and Ariella Morrow, who presented one of her clay sculptures. Medical students, both men and women, also performed as the "Jugulars," the Feinberg School's juggling troupe.
The lunchtime crowd was also treated to a solo flamenco dance performance by Claudia Moreno, a department assistant from the Kellogg School of Management on the Evanston campus. She participated in last year's event, and said, "Women Artists Behind the Desk beautifully realizes the diverse talents of Northwestern's students, faculty, and staff. I loved being a participant because the Women's Center does a terrific job of sharing the creative gifts of University women."