Prepare Your Promotion/Tenure Dossier
Understand Your Career Track
Before preparing your promotion dossier, make sure that you know and understand your career track, for it establishes the criteria by which you are evaluated for promotion/tenure. Your dossier should demonstrate accomplishments that are consistent with your career track. For detailed descriptions of FSM faculty career tracks, view the Information Guide for Appointments, Promotion, and Tenure. 
Faculty on the Clinician-Educator track each specialize in two of a possible four domains (teaching and education, clinical impact and recognition, original research, heath services management).  Clinician-Educators should confirm their domains prior to preparing their dossier because they are evaluated for promotion based on contributions in their chosen domains.  Clinician-Educators may change their domains by September 1, prior to their promotion application being received in the Dean's Office.  
To check your domains, log into your faculty profile using your university netID and password. 
If you wish to change your domains, first discuss with your division chief or department chair.  Your department leadership prepares nomination paperwork to accompany your dossier, so it is important that they are aware of your domains. Your department will notify the Faculty Affairs Office of domain changes, which will then be updated in your faculty profile.
Prepare Your Dossier
The requirements for the promotion dossier vary by rank and career track, and are summarized in the table below, which is also published in the appendices of the Information Guide for Appointments, Promotion, and Tenure. Links to required forms/templates, as well as guidance for preparing them, appear at the bottom of this page.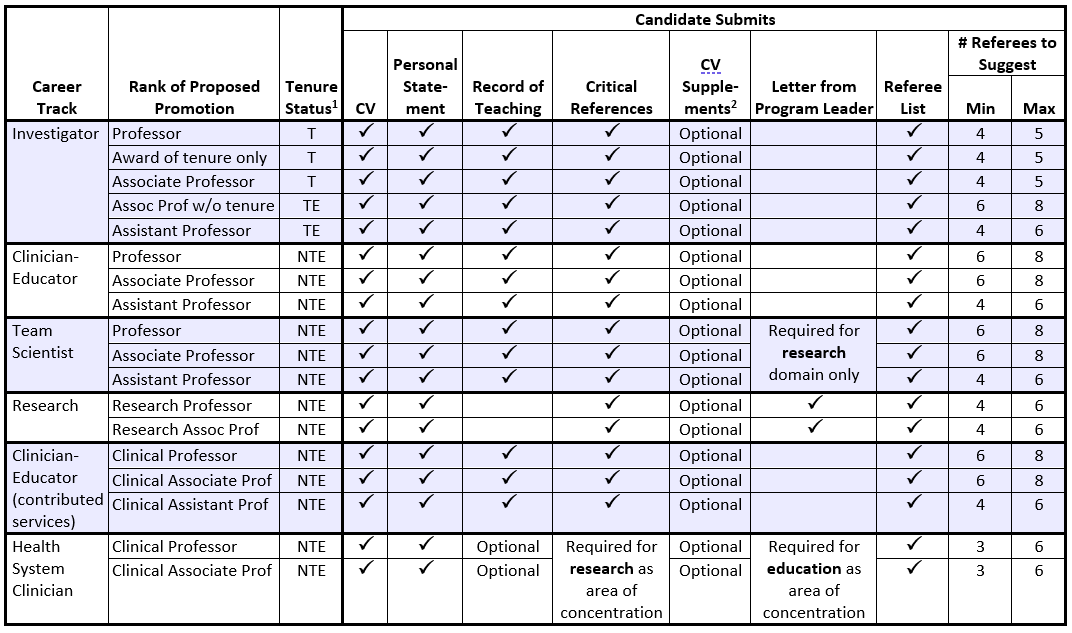 Importance
Your CV is the foundation of your promotion/tenure dossier, providing the most comprehensive accounting of your achievements, and it is reviewed carefully throughout the various phases of the evaluation process.  FSM requires promotion/tenure applicants to use the FSM CV template because it provides a standardized format for faculty to report their accomplishments and thereby facilitates equity in the review and evaluation process.  The template was recently updated to better account for the breadth of faculty activity and achievement so as to help faculty improve the quality and strength of their promotion dossier.
Guidance
Proofread your CV and be attentive to detail--a poorly prepared CV reflects poorly on the applicant
Ensure formatting is consistent throughout
When listing publications, put your name in bold font and list all authors in the order they appear on the publication 
When listing grant awards, follow the format established on the CV template, making sure to document your role and the direct costs you received
Keep in mind that your CV will be distributed to referees, so do not put sensitive information such as your social security number on it
Sections of the CV template that do not apply to you may be skipped, but the sections that do apply should be listed in the order established in the template
If you have achievements in additional areas not represented on the CV template, you may add them at the end of the CV (or add sub-sections at the end of sections within the template, as appropriate)
Importance
FSM requires personal narrative statements for promotions to the level of Associate Professor and Professor on all career tracks, as well as for the award of tenure.  The personal statement is optional for promotions to Assistant Professor, though Department Chairs may require them as part of the department's internal nomination process.  Effective personal statements contextualize the accomplishments listed on the CV or provide supplementary information that may not be apparent from review of the CV.  The personal statement is also an opportunity to communicate with reviewers outside your field, helping them to understand the significance of your work in your specialty.
Guidance
Recommended length is 3-5 pages
Do not simply repeat the accomplishments listed in your CV; instead use the personal statement to provide additional context or other information that is not evident from your CV and that would help reviewers evaluate your application for promotion or tenure.  For example, explain specific contributions that may not otherwise be appreciated by reviewers (e.g., clinical expertise), describe extenuating circumstances that may have impacted your progress, list accomplishments that do not appear in other parts of the application, etc. 
Use the personal statement to help reviewers who may be unfamiliar with your field to better appreciate the accomplishments on your CV by explaining the significance/impact of your work in your specialty
The Dean's Office or Department Chair may provide your personal statement to referees when soliciting reference letters (candidates do not solicit their own reference letters) 
Importance
Except for those on the non-tenure-eligible research track, all promotion/tenure applicants must complete the Documentation of Teaching form.  Teaching is a core mission of FSM and all faculty on the Clinician-Educator, Team Scientist, and Investigator career tracks are expected to demonstrate contributions in this area, which are documented via this form.
Importance
Faculty are expected to advance their fields, with their work having an impact beyond Northwestern's campus.  In the Critical References Form, which is required for all applications for promotion and for the award of tenure, promotion/tenure applicants identify up to five references since your last promotion in rank (or appointment) that represent your most significant contributions, and explain the impact and consequences of each.  Additionally, FSM recognizes that authorship order is not a perfect indicator of authors' contributions to publications. If you are a middle author on a high-impact paper for which you played a critical role, this form provides an opportunity to highlight your contribution.
Importance
This form is optional and may be used by faculty on any career track to record their quality improvement project activity.  Clinician-educators who specialize in the health services management or clinical domains are encouraged to describe their quality improvement activity, as it provides evidence of achievement in those domain areas.
Importance
This form is required for Team Scientists in the research domain only.  Team scientists who specialize in research are expected to contribute their skills, expertise, and effort as key collaborators in obtaining, sustaining, and implementing programmatic research at Northwestern.  The Team and Collaborative Research Documentation Form is used to demonstrate achievement as a key collaborator, communicating Team Scientists' essential contributions to the research enterprise, which may not be apparent from the CV since they often will be co-investigators on grants and middle authors on papers.
Download the Team and Collaborative Research Documentation Form.
Importance
This is required for Team Scientists in the research domain.  Team scientists who specialize in research are expected to contribute their skills, expertise, and effort as key collaborators in obtaining, sustaining, and implementing programmatic research at Northwestern.  Team Scientists specializing in the research domain should request a letter from a program leader at Northwestern (e.g., another faculty member who is Principal Investigator for a grant on which the Team Scientist contributes) who can attest to the essential contributions the Team Scientist makes as a key collaborator. 
Promotion candidates who are appointed on the Research Track may include one or more letters from program leaders to demonstrate how their activities contribute to research excellence at the Feinberg School of Medicine. 
Importance
Promotion/tenure candidates do not request their own reference letters, but they do suggest referee names who will be contacted by the Department Chair's Office or Dean's Office to provide an evaluation.  The quality of reference letters (prominence, rank, institution) is an important factor in evaluating you for promotion/tenure.  Poorly chosen external reference letters may adversely affect the likelihood of promotion/tenure success.  On non-tenure-eligible career tracks, promotions to the rank of Associate Professor require evidence of a regional reputation, and promotions to the rank of Professor require evidence of a national/international reputation.  On the Investigator track (tenure track), evidence of a national reputation is required by the time of promotion to Associate Professor.  Referees from a diverse set of geographically dispersed institutions demonstrate the breadth of your reputation.  
Download the Candidate's Referee List Form.
Guidance
Promotion candidates suggest referee names but should never contact the referees to solicit their own letters
Referees must hold an academic rank that is equivalent to or higher than the rank of the proposed promotion
Select referees from peer institutions when possible, as these strengthen your promotion application
Select referees who represent diverse institutions.  If all your referees come from a couple of institutions, that suggests your work has limited impact. The geographic range of referees demonstrates the breadth of your reputation. 
Referees must be external to Northwestern, with one exception: candidates proposed for promotion to non-tenure-eligible Assistant Professor can suggest up to two referees who are at NU but outside their department
Referees without a training connection to the promotion candidate are preferred
The number of referee names a candidate should provide is dependent upon the rank of promotion. 
List referee names in rank order of preference