Reunion Giving Honor Roll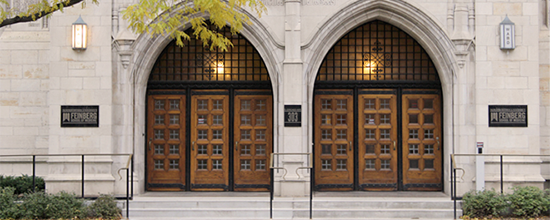 Our second annual Reunion Giving Honor Roll recognizes MD alumni who celebrated their 5th through 60th reunion in April 2016 and whose reunion gifts and pledges were recorded between September 1, 2015, and August 31, 2016.
As a part of We Will. The Campaign for Northwestern Medicine, we seek to encourage support from an increasing number of alumni and friends for our immediate and future goals and priorities. This Reunion Giving Honor Roll is one way we celebrate our alumni's continued generosity and participation in the campaign.
If you made a gift in honor of your reunion, thank you! You're in good company—scroll through the list below to see your classmates and friends who joined you in giving back to the medical school in honor of your reunion.
Your participation makes the biggest difference. It is not about how much you give—it is about the simple act of giving each year. Gifts at every level from loyal alumni donors provide a vital foundation of support enabling the medical school to remain highly competitive and strengthening its position as one of the top medical schools in the nation.
Honor Roll Key
Bold - Member of Nathan Smith Davis Society

Jump to: 1956 - 1961 - 1966 - 1971 - 1976 - 1981 - 1986 - 1991 - 1996 - 2001 - 2006 - 2011
Class of 1956
Peter Barglow, MD
Joel J. Baron, MD
Barrett H. Bolton, MD
Robert W. Boxer, MD
Harvey D. Cain, MD
Sylvan Cohen, MD
S. Marshall Cushman Jr., MD
Leroy A. Ecklund, MD
Wendell L. Edwards, MD
Edward J. Fesco, MD
Frank M. Highly Jr., MD
Donald M. Hopkins, MD
John A. Hull, MD
Ronald P. Karzel, MD
Richard W. Leigh, MD
Lawrence H. Linder, MD
Eugene Y. Lowe, MD
Robert G. McKillop, MD
Robert H. Persellin, MD
Bernard Resnick, MD
G. Stephen Scholly, MD
Joan K. Short, MD
Robert A. Skankey, MD
Edward R. Uehling, MD
James R. Webster Jr., MD
Ronald K. Wells, MD
William H. Ziering, MD
Class of 1961
Whitney W. Addington, MD
George M. Burns, MD
Jerome J. Callaway, MD
Donald R. Cole, MD
David W. Cromer, MD
Walter W. Doren, MD
Kevin P. Glynn, MD
Jerome E. Goss, MD
Terry L. Hansen, MD
Arthur C. Johnson, MD
Tom M. Johnson, MD
Stephen D. Kaster, MD
Eric R. Leibovitch, MD
Richard B. Leonard, MD
K Michael Lipkin, MD
Norman S. Litowitz, MD
Mark H. Littlejohn, MD
David M. Margulies, MD
Charles T. McGee, MD
Philip M. Miller, MD
Henry L. Nadler, MD
Paul K. Opsvig, MD
Ronald J. Pancner, MD
Irwin M. Pasternak, MD
Phillip J. Ruffalo, MD
Myron Schonbrun, MD
Richard D. Shafron, MD
Fred A. Shiraki, MD
Leonard E. Snyder, MD
James E. Stevenson, MD
Robert M. Vanecko, MD
Philip W. Wright, MD
Class of 1966
Richard D. Anderson, MD
Stanley Z. Berman, MD
Carol W. Booth, MD
Peter C. Burger, MD
Frederick K. Dean, MD
Gerald M. Debonis, MD
Scott H. M. Driscoll, MD
Charles Failmezger, MD
G. Richard Geier Jr., MD
Harvey M. Goldstein, MD
Barbara B. Gosink, MD
W. Kenneth Haisty Jr., MD
William B. Iams, MD
Michael A. Kass, MD
Andrew P. Klaus, MD
John R. Lake, MD
Sherwin D. Lewis, MD
Dana G. Maciunas, MD
Alan T. Marty, MD
Richard R. Nelson, MD
Paul E. Nickerson, MD
Alan L. Plummer, MD
Thomas R. Powers, MD
Mary Ann Rosanova-Kaper, MD
Harvey L. Ruben, MD
Monroe Seiberling Jr., MD
Joseph Silva Jr., MD
Robert I. Schnipper, MD
Thomas J. Sondag, MD
Thomas S. Stevens, MD
A. Kent Teaford, MD
J. Robert Thompson Jr., MD
Charles D. Turek, MD
Robert L. Van Dervoort Jr., MD
Thomas R. Westerhoff, MD
Loren J. Wolsh, MD
Joseph T. Zerella, MD
Class of 1971
William D. Barnhart, MD
David H. Barry Jr., MD
J. D. Bartleson, MD
Gail E. Belytschko, MD
Hobart D. Blair II, MD
Sybil J. Circle, MD
Bruce L. Dresner, MD
Charles Drueck III, MD
Michael A. Dunn, MD
Nyambi Ebie, MD
Donald R. Fisk, MD
Robert M. Geer, MD
Mark Gendleman, MD
D. Grant Gilbert, MD
Stephen R. Greenberg, MD
Jeffrey B. Hagen, MD
Michael O. Henneberry, MD
Duane R. Iverson, MD
Elliot G. Levy, MD
Anne Maledon Loebl, MD
James C. MacKenzie, MD
Robert J. Minkus, MD
Edward C. Murphy, MD
Allen R. Nissenson, MD
Sol I. Rajfer, MD
Michael L. Resnick, MD
Adam Henry Romeiser, MD
James E. Sander, MD
Michael B. Scott, MD
Charles H. Song, MD
Gregg E. Springer, MD
Harvey S. Takaki, MD
Howard D. Weiss, MD
Class of 1976
Gerald M. Casey, MD
Louis E. Claybon, MD
Leslie C. Grammer III, MD
Lynn E. Hauser, MD
Therese M. Hickey, MD
Phillip C. Histand, MD
Armen S. Kelikian, MD
Earl A. Kubota, MD
James C. Kudrna, MD
Daryl S. Larke, MD
J. Richard Lentino, MD
David J. Lerner, MD
Donald L. Levin, MD
Judith S. Lichtenstein, MD
Susan G. Liebovitz, MD
Robert H. Lohr, MD
Richard A. Moscicki, MD
J. B. Muldowney, MD
Thomas L. Pitts, MD
Leslie A. Pliskin, MD
Milton L. Pressler, MD
Amy Ramirez, MD
Andrew H. Ripeckyj, MD
Jean H. Schott-Wagner, MD
Carl A. Sferry, MD
Gregory A. Stainer, MD
Mark D. Taber, MD
Richard W. Whitten, MD
Class of 1981
Peter G. Allyn, MD
Ann M. Barber, MD
Kevin R. Bower, MD
Joseph E. Canzona, MD
Alicia Christy, MD
William Coukos, MD
Jean F. Curran, MD
Mark P. Demus, MD
Alan J. Hecht, MD
Gregory P. Kastner, MD
Jeffrey S. Kneisl, MD
Theodore C. Larson III, MD
Jean V. Longley, MD
Thomas A. Mattioni, MD
Julie L. Meeker, MD
Richard N. Messersmith, MD
Ernest E. Nitka, MD
Susan G. Nitka, MD
Paul M. Palevsky, MD
Michael S. Parmacek, MD
Christopher M. Rembold, MD
Owen L. Robinson, MD
Thomas R. Roesel, MD
John P. Rudzinski, MD
Lydia J. Sarro, MD
Ross A. Slotten, MD
David J. Smith, MD
Edward S. Traisman, MD
Joseph J. Viadero, MD
Wendelyn A. Witt, MD
Mark J. Zucker, MD
Class of 1986
Sarah Doerschuk Beshlian, MD
Steven W. Bigg, MD
Steven Fishman, MD
Martin R. Gallo, MD
Elizabeth Spinuzza Harris, MD
Paul B. Haser, MD
Kevin E. Kelly, MD
Peter E. Knott, MD
Lawrence Lenke, MD
Jennifer Lim, MD
George V. Mazariegos, MD
Joseph F. Mooney, MD
David Morimoto, MD
Andrew William Parker, MD
Kathleen Price, MD
Steven J. Price, MD
Mary Beth McMenamin Richmond, MD
Reema Sanghvi, MD
M. Wayne Saville, MD
Lori S. Shelnitz, MD
Joel C. Shobe, MD
Stephen D. Vogler, MD
Regina Walker, MD
Gary Wu, MD
Scott Zeller, MD
Karen Beth Zemanick, MD
Class of 1991
Jodi L. Abramson, MD
Sean S. Adams, MD
Christopher H. Allan, MD
Leonard J. Bernstein, MD
Malcolm M. Bilimoria, MD
John E. Butter, MD
Holly Casele, MD
Vinky Chadha, MD
John E. Coffey, MD
Graciela Rojas Conley, MD
Janice Govostis Farrehi, MD
Steven R. Gallo, MD
Patrick J. Geraghty, MD
Kern H. Guppy, MD
David Ethan Gutstein, MD
Farah Hashemi, MD
James J. Herrmann, MD
Maureen M. Herrmann, MD
Peter Franklin Jelsma, MD
Jason H.T. Karlawish, MD
Paul H. Kim, MD
Lynn R. Kong, MD
Cori A. Levinson, MD
Steven S. Louis, MD
Mark G. Mandabach, MD
Mark McKee, MD
Julie A. Melchior, MD
Elizabeth M. Nestor, MD
Sherry K. Nordstrom, MD
Robert P. Ochi, MD
Reed A. Omary, MD
Pallavi M. Patel, MD
Michael H. Safir, MD
Vijay H. Shah, MD
Diljeet K. Singh, MD
Jeffrey E. Spoo, MD
Mark D. Stovsky, MD, MBA
Sarah L. Timmapuri, MD
Mahesh V.S. Vadali, MD
Diane Bronstein Wayne, MD
Robert J. Wolf, MD
Catheryn M. Yashar, MD
Amelia Y. Yeh, MD
Class of 1996
Malay Agrawal, MD
Andrew C. Alexander, MD
Paul H. Bonucci, MD
Erin Brewster, MD
Sandra L. Elfering, MD
Jennifer K. Fan, MD
Colleen Marie Fitzgerald, MD
Scott A. Free, MD
Paul T. Giboney, MD
Dhanesh K. Gupta, MD
Thy N. Huskey, MD
Christopher Scott Kang, MD
Samuel C. Kim, MD
Carol D. King, MD
Daniel T. Kuesis, MD
Scott A. Lorch, MD
Michelle S. Meeks, MD
Paul E. O'Brien, MD
Nikhil M. Patel, MD
Anita G. Rao, MD
Alexandrina S. Saulis, MD
Priya Sharma, MD
Kara Morley Smolek, MD
Rebecca C. Tung, MD
Amy Y. Wang, MD
Kyne M. Wang, MD
Class of 2001
Lynn M. Azuma, MD
Shirley Y. Chi, MD
Brian S. Drummond, MD
Mahidhar M. Durbhakula, MD
Brian T. Hall, MD
Albert D. Hwang, MD
Roopal Kundu, MD
Jason Marc Liu, MD
Jennifer H. Pien-Wong, MD
Agnes Radzio, MD
John K. Tsai, MD
Kim L. Wang, MD
Gordon C. Wong, MD
Class of 2006
Manish Ramakant Asaravala, MD
Amy Badger-Asaravala, MD
Heather A. Ballard, MD
Daniel Jacob Frank, MD
Kamron Izadi, MD
Matthew Charles Kleinmaier, MD
Seth Brandon Krantz, MD
Paul J. Krivickas, MD
Danielle Molloy McCarthy, MD, MS
Elaine Deming Murphy, MD
Jessica L. Sime, MD
Lyjia O. Strachan, MD
Mary R. Welch, MD
Maurice Yu, MD
Class of 2011
Kristin Elizabeth Fontes, MD
Ronald Joseph Kall, MD
Juliet Evans Seery, MD
Lalitha Meenambal Sitaraman, MD
Vinhfield Xuan Ta, MD
Karen Melissa Tam, MD
Dimitar Vladimirov Zlatev, MD