Connect with our office via the information below. 
Northwestern University
Feinberg School of Medicine
Office of Admissions
Morton Building 1-606
303 East Chicago Avenue
Chicago, Illinois 60611-3008
312-503-8206
med-admissions@northwestern.edu
Admissions Information Request
Sign up below to receive more information, and let us know your communication preferences.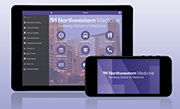 Mobile App
The Feinberg app delivers mobile access to school information, including news, events, online directory and campus maps. Learn more or visit the app store on your device.