1837
Rush Medical College chartered.
1843
1843-44 Rush Medical College starts classes, forced by competition from schools in LaPorte (Ind.), St. Charles (Ill.) and Jacksonville (Ill.).
1859
March 12, Drs. Hosmer A. Johnson, Edmund Andrews, Ralph N. Isham and David Rutter sign an agreement with the Executive Committee of Lind University, establishing the medical department of the university. Drs. Nathan Smith Davis and William H. Byford were offered professorships in the new department. All these founders were current or former faculty of Rush Medical College who were disaffected by the inability to institute needed reforms in medical education. Consequently, the new department established the first graded curriculum in a U.S. medical school. (Arey, 34-35).
Mercy Hospital, first Catholic hospital in the U.S. to affiliate with a medical school -- Lind Medical School/University, the first ancestor of today's Northwestern University Feinberg School of Medicine.
October 9, 1859, marks the school's first session.
1863
First medical school building purchased at State Street and Twenty-second Street. Mercy Hospital moves nearby, Calumet and Twenty-sixth Street.
Lind University name changed to Lake Forest University
April 26, Medical Department of Lind University becomes Chicago Medical College, independent of Lake Forest University.
1866
Dr. Nathan Smith Davis assumes presidency of the college, succeeding Dr. Hosmer A. Johnson.
1867
In May, a convention on medical education is held in Cincinnati.
Alumni Association of the Chicago Medical College organized
1868
Actual termination of Chicago Medical College's affiliation with Lake Forest University.
Instruction increased from a five-month term to six months; the curriculum was extended to three years; and entrance requirements were established.
1869
After 10 years in existence, the Chicago Medical College had student attendance of 817 and had graduated 237. Alas, no other school has yet to adopt the same educational principles as those of the college.
Northwestern University President Erastis Otis Haven and Dr. Nathan Smith Davis begin dialogue respecting the union of the two institutions.
First three women students admitted. One is Mary H. Thompson, who is already a physician and receives the ad eundum degree (a degree awarded to a person with a degree from another school) in 1870.
1870
Chicago Medical College enters into an agreement with Northwestern University to serve as the University's Department of Medicine.
New medical school building opens at Twenty-sixth and Prairie Avenue, adjacent to Mercy Hospital.
Woman's Hospital Medical College opens.
1877
Entrance requirements re-established.
1879
University wins case in U.S. Supreme Court not to be taxed by Cook County.
1880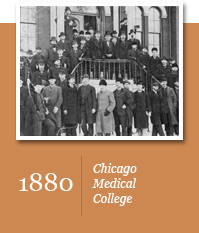 A four-week practitioner's course started for recent graduates